A man leaves a residue in a woman
What is this residue?
Does, in its microscopic materialization,
The left over semen
Make a permanent mark?
Do I, as a man,
Wish to leave traces within you,
A form of forever that nestles in the womb?
Or is there another way
In which man may give
Substance to her, who has stirred his loins
Can I be stronger than I've ever been?
Will I be able to give love without demands?
I wonder why I need to disown a feeling
To beautiful to own?
Must it go,
Depart,
Tiny traces,
No more than residue
In an unseen, personal, world?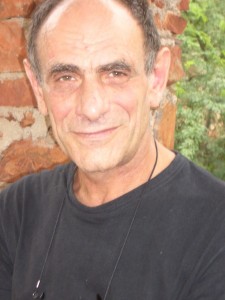 Robin Marchesi, born in 1951, began writing in his teens, much to the consternation of his mother, the sister of Eric Hobsbawm, the historian.
In 1992 Cosmic Books published his first book entitled "A B C Quest".
In 1996 March Hare Press published "Kyoto Garden" and in 1999 "My Heart is As…"
ClockTowerBooks published his Poetic Novella, "A Small Journal of Heroin Addiction", digitally, in 2000.
Charta Books published his latest work entitled "Poet of the Building Site", about his time working with Barry Flanagan the Sculptor of Hares, in association with the Irish Museum of Modern Art.
He is presently working on an upcoming novel entitled "A Story Made of Stone."

http://www.amazon.com/A-Small-Journal-Heroin-Addiction/product-reviews/0743300521

http://www.illywords.com/2011/09/down-the-rabbit-hole-a-glimpse-into-the-wonderland-of-barry-flanagan/


www.facebook.com/PoetryLifeTimes
www.facebook.com/Artvilla.com
robin@artvilla.com
editor@artvilla.com
http://www.aquillrelle.com/authorrobin.htm
http://www.amazon.com. All the Babble of the Souk. Robin Ouzman Hislop
www.lulu.com. All the Babble of the Souk. Robin Ouzman Hislop