They do not bless the rose but the thorns
hanging over her portrait
tonight in your gallery of squalor,
your face hidden by chiaroscuro
blemishes from a performer's life:
Oh those wrinkles & shriveled crevices

Now adorn the snake's mottled skin
a thousand fingers brusquely trip
the malice of broken bones over
your elusive figure the drum sways
thinking of all those closeted skeletons
third world victims rise from gravestones

To dance at the Rock concert for peace
& a justice they never got living
in humanity's truncated evolution.
Their dusty clothing reeks of decay,
little children hold noses watching
this massive dance of desperation

As Tove Lo sings them finally to sleep
the night watchman rubs his eyes
while cleaning crews grimly vacuum
the lost sounds of silent bodies,
the peaceful concert now
forever over, at last.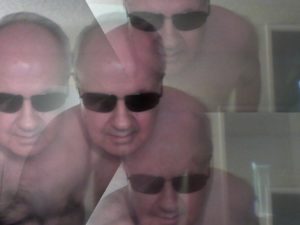 — Peter Magliocco writes from Las Vegas, Nevada, where he occasionally edits the lit-zine ART:MAG. His speculative sci-fi novel The Burgher of Virtual Eden is now available in all the usual places.


www.facebook.com/PoetryLifeTimes

robin@artvilla.com
editor@artvilla.com

Key of Mist. Guadalupe Grande.Translated.Amparo Arróspide.Robin Ouzman Hislop

goodreads.com/author/show/Robin Ouzman Hislop
http://www.aquillrelle.com/authorrobin.htm
http://www.amazon.com. All the Babble of the Souk. Robin Ouzman Hislop
www.lulu.com. All the Babble of the Souk. Robin Ouzman Hislop
https://www.amazon.com/author/robinouzmanhislop