Body language indicated frustration,
trying to get back
to normal, and I
looked down at empty.
Hands gave back everything,
thanked me as I had to move on
for their sake. An integrity procedure—
like seals on storebought bottles—
I moved closer
to the edge. Contained,
I believed I would not have known the difference.
I came apart freely and without
damaging the sky, dissolved
into the ether and afterthought.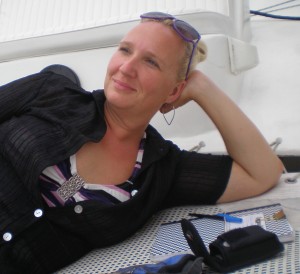 A.J. Huffman has published thirteen full-length poetry collections, thirteen solo poetry chapbooks and one joint poetry chapbook through various small presses. Her most recent releases, The Pyre On Which Tomorrow Burns (Scars Publications), Degeneration (Pink Girl Ink), A Bizarre Burning of Bees (Transcendent Zero Press), and Familiar Illusions (Flutter Press) are now available from their respective publishers. She is a five-time Pushcart Prize nominee, a two-time Best of Net nominee, and has published over 2600 poems in various national and international journals, including Labletter, The James Dickey Review, The Bookends Review, Bone Orchard, Corvus Review, EgoPHobia, and Kritya. She is also the founding editor of Kind of a Hurricane Press. www.kindofahurricanepress.com.

www.facebook.com/PoetryLifeTimes
www.facebook.com/Artvilla.com
[email protected]
[email protected]


Key of Mist. Guadalupe Grande.Translated.Amparo Arróspide.Robin Ouzman Hislop

goodreads.com/author/show/Robin Ouzman Hislop
http://www.aquillrelle.com/authorrobin.htm
http://www.amazon.com. All the Babble of the Souk. Robin Ouzman Hislop
www.lulu.com. All the Babble of the Souk. Robin Ouzman Hislop
https://www.amazon.com/author/robinouzmanhislop
http://www.innerchildpress.com/robin-ouzman-hislop.All the Babble of the Souk