Round and Round
Just wearing out a broken frown
Being eaten by a hungry world
Us truants from another time
With ribbons from a different rhyme…
Where are we?
Surrounded by Eternity
Or is it just a dream,
A vision that we've seen,
When you're searching for ecstasy…
You and me
Just walking over broken glass,
A mirage that will let you down,
Us players in a game of chance,
Random travellers in a magic dance…
Here we are,
Children lost in destiny,
A throw of foolish dice,
The joker comes up twice,
When you're searching for ecstasy…
So here we go,
For shadows in a picture show,
Unwinding action, real to real,
Stargazers from a lonely place,
To captivate a raptured face…
It may be,
Solutions lost in fantasy,
There's a rainbow in your heart,
Love's woven from the start
When you're searching for ecstasy.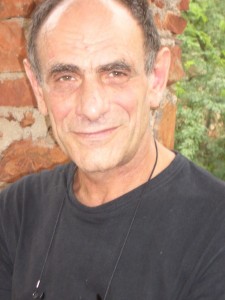 Robin Marchesi, born in 1951, began writing in his teens, much to the consternation of his mother, the sister of Eric Hobsbawm, the historian.
In 1992 Cosmic Books published his first book entitled  "A B C Quest".
In 1996 March Hare Press published "Kyoto Garden" and in 1999 "My Heart is As…"
ClockTowerBooks published his Poetic Novella, "A Small Journal of Heroin Addiction", digitally, in 2000.
Charta Books published his latest work entitled "Poet of the Building Site", about his time working with Barry Flanagan the Sculptor of Hares, in association with the Irish Museum of Modern Art.
He is presently working on an upcoming novel entitled "A Story Made of Stone."


 http://www.amazon.com/A-Small-Journal-Heroin-Addiction/product-reviews/0743300521

http://www.illywords.com/2011/09/down-the-rabbit-hole-a-glimpse-into-the-wonderland-of-barry-flanagan/