Introduction:

Malala Yousafzai is a teenager from the town of Mingora in the Swat District of Pakistan's Khyber Pakhtunkhwa province, where the Taliban banned girls from attending school. Known for her education and women's rights activism, Malala, then fifteen, was shot in the head and neck by a Taliban gunman while returning home on a school bus on October 9, 2012. She survived. She has written an autobiography, I Am Malala: The Girl Who Stood Up for Education and Was Shot by the Taliban. In 2013, at sixteen, she became the youngest person ever nominated for the Nobel Peace Prize. and this year she won it.

Malala

RUSHING TO THE METRO ALREADY A LITTLE LATE ON MY WAY TO BALLET I NEARLY SKID ON ACORNS, CATCH MYSELF

I think of Malala, maybe rushing, never
wanting to think her name means "grief
stricken," as I've written a poem about
becoming what you're called. Maybe
she was humming a song she heard once
on TV before the Taliban made it a crime.
Or she was watching leaves drift from the bus
or giggling with girl friends. Maybe
she was thinking of being a doctor and
coming back to treat young children
in her region, her swat. Or maybe she
was hoping to see a certain boy with
licorice eyes and a smile who always
made her giggle. No longer able to wear
school uniforms, told to wear plain
clothes, Malala wrote in her blog,
"Instead, I decided to wear my favorite
pink dress." Maybe the last beautiful
thing she saw as the bullet entered her
mahogany curls until later she woke
up in the hospital's cone of light.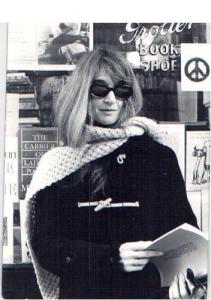 Lyn Lifshin has published over 140 books and chapbooks and edited three anthologies of women's writing including Tangled Vines that stayed in print 20 years. She has several books from Black Sparrow books. Her web site, www.lynlifshin.com shows the variety of her work from the equine books, The Licorice Daughter: My Year with Ruffian and Barbaro: Beyond Brokenness to recent books about dance: Ballroom, Knife Edge and Absinthe: The Tango Poems. Other new books include For the Roses, poems for Joni Mitchell, All The Poets Who Touched Me; A Girl goes Into The Woods; Malala, Tangled as the Alphabet: The Istanbul Poems. Also just out: Secretariat: The Red Freak, The Miracle; Malala and Luminous Women: Enheducanna, Scheherazade and Nefertiti. web site: www.lynlifshin.com


www.facebook.com/PoetryLifeTimes
www.facebook.com/Artvilla.com
robin@artvilla.com
editor@artvilla.com