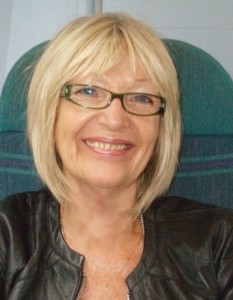 Oh!  My heart's in Cumbria,
That for so long I've missed,
The blue grey hills and valleys
Of early Autumn's kissed.
For not since young I've seen it
Beneath a northern sky,
When at dawn in soft grey mist
I watched the clouds race by.
The lakes 'neath mountain summits
Are deepest peacock green,
With trees aflame in Autumn,
The like you've never seen!
For colours rich in texture
Are painting gold the hills
While heathers bathe in purples,
Ahead of winter chills.
All through this golden silence
By silver tarns aflow,
The low-land sheep are grazing
Where tangled breezes blow
And o'er beyond in Keswick,
You'll see the ospreys there,
Among the blue of shadows
Where sights of them are rare.
Yet should you walk yet higher
To climb the tallest peak,
There's snow as white as crystal
Where clouds will brush your cheek.
My heart so loves this landscape
That Autumn's long desired,
The lakes and fells and mountains,
Where poets are inspired.
The bronze and gold this season
Will nestle on the brink,
Of shores beside pearl waters,
Where trout and salmon slink.
Oh! My heart's in Cumbria,
That for so long I've missed
But hope prevails I may return
To keep an Autumn tryst.
—
  Lulu Gee lives on the south east coast of England.
She's had a varied working career starting at a theatrical shoemakers designing and making shoes for most of the west end shows in London, then as a hotelier and finally in finance for a corporate cryogenic company until she retired, and now is a proud published author of three poetry books.
She now writes full-time with her two dogs Teddy and Dolly never far from her side in her newly acquired cottage in the Kent countryside, known as the garden of England.
Her first book, 'Dolly's Wonderful New Life' is a story in verse of the rescue and re-homing of her beloved border terrier, Dolly Daydream, while the second and third were both written in conjunction with the poet Dan Lake.
Her latest character Miss Twizzy is about to be published and hopefully be in the shops for Christmas 2013
At the moment she is working on a collection of fantasy poetry that will appeal the child in all of us.
[email protected]

[email protected]
www.facebook.com/Artvilla.com
www.facebook.com/PoetryLifeTimes