Little Dancer — The Degas Poems

by Lyn Lifshin

Paperback, 40 pages, $14.00 (list)
ISBN: 0989310671

Available at Amazon


Publisher: NightBallet Press

To receive a copy by mail and to view special offers please visit
NightBallet Press

Introduction:

The newest poem from Lyn Lifshin, imagines and explores the world of Marie Van Goethem, the "Little Dancer" sculpted by Edgar Degas. The Degas Poems contains 29 poems.

Now loved, Degas' original wax version of the little dancer was hated,though his paintings had been greeted enthusiastically.  His sculpture of The Little Dancer, Aged 14, was considered shocking and unsettling, like a little monkey.  It is said one father cried, 'God forbid my daughter should become a dancer.'  Many were shocked by her pose and the material used: human hair, beeswax, silk.  Degas loved the opera and ballet but this statue was called 'repulsive' and 'vicious,' a threat to society.  It forced viewers to look at the seamy side of life since most of the young girls came from very poor slums and working class families.  Others were horrified that she seemed to champion ugliness and depravity.  Degas never again exhibited the sculpture.  And, though he painted ballerinas all his life, The Little Dancer was largely forgotten until it was rediscovered with dozens of other sculptures.  His fascination with making sculpture was little know in his lifetime, unlike his portraits, history paintings, scenes from modern life, the world of horse racig, and the theater and ballet.

---

Christina Zawadiwsky,

"We now recognize The Little Dancer sculpture by Degas as arresting and compelling, but there was a time when she was considered scandalous and disturbing.  Lyn Lifshin's poems celebrate her creation as a symbol of so many young and impoverished French female dancers who attempted to fill our world with grace, energy, and beauty.  And Lifshin's insightful and incisive Little Dancer poems remind us to remember her name, Marie Van Goethem, so that she will never fade into obscurity."

—Christina Zawadiwsky, author of The Hand On The Head Of Lazarus and recipient of the National Endowment Award.

---

Poems from Little Dancer—The Degas Poems

THE LITTLE DANCER,

was Degas in love with her?
Obsessed? Driven? Her
hair bound in probably
stolen ribbons. Not one image
but four. Her hands behind
her as if cuffed, a prisoner
of her poverty, exchanging
her body on stage or in
some rich patron's bed,
offering a fantasy of ideal
femininity under the
sheets or on pointe on
the stage. And did Degas,
so fascinated by her, want
to know in every way,
what was inside her?

FLOWER OF THE GUTTER

a winged urchin,
gamin aile, the little dancer must
have hypnotized Degas.
Unlike most ballerinas who
never talked, Marie was
feisty, not afraid to
speak her mind. She and
Degas must have bickered.
Could she have imagined all
the statues of her that
would be replicated, after
Degas' death, at the family's
request, in bronze. She
couldn't know there'd be
only one of her in wax, the
only one he'd actually
put his hands on, dressed
in a silk tutu with real
human hair and linen slippers,
maybe her own slippers.
her own DNA

JOLIE-LAIDE

Not pretty or ugly but a
look that not only combines
attributes of both but suggests
a deeper sense of conflict between
appearance and inner life.

The little dancer,
Degas' little rat
from the slums of Paris.
Fascinated by the street
urchin, Degas wrote a sonnet
about such a girl, that she
might have a good life
without losing the "race of
the street." Unlike white
marble, something to
admire, brown wax invited
something to be studied,
dissected and penetrated, in
all its implications. Surly,
a mix of arrogance and fear
the little dancer, mysterious
and somehow challenging
men to fantasize that
whatever they do to her body
they can't have or know her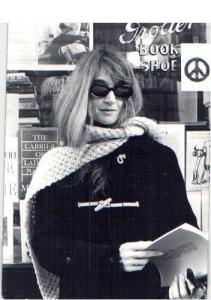 Lyn Lifshin has published over 140 books and chapbooks and edited three anthologies of women's writing including Tangled Vines that stayed in print 20 years. She has several books from Black Sparrow books. Her web site, www.lynlifshin.com shows the variety of her work from the equine books, The Licorice Daughter: My Year with Ruffian and Barbaro: Beyond Brokenness to recent books about dance: Ballroom, Knife Edge and Absinthe: The Tango Poems. Other new books include For the Roses, poems for Joni Mitchell, All The Poets Who Touched Me; A Girl goes Into The Woods; Malala, Tangled as the Alphabet: The Istanbul Poems. Also just out: Secretariat: The Red Freak, The Miracle Malala and Luminous Women: Enheducanna, Scheherazade and Nefertiti.
www.facebook.com/PoetryLifeTimes
[email protected]
[email protected]
Key of Mist. Guadalupe Grande.Translated.Amparo Arróspide.Robin Ouzman Hislop
goodreads.com/author/show/Robin Ouzman Hislop
http://www.aquillrelle.com/authorrobin.htm
http://www.amazon.com. All the Babble of the Souk. Robin Ouzman Hislop
www.lulu.com. All the Babble of the Souk. Robin Ouzman Hislop
https://www.amazon.com/author/robinouzmanhislop