Forest Spirit is the master of woods and beasts, the shepherd whose stock
 consists of deer, roes and rabbits, which are looked after by wolves or lynxes.
 His cheeks are blue, his eyes are green, and his beard is long and green.
 Sometimes he covers himself with furs, and some of the legends depict him
 as wearing a mask and having horns. His left shoe is always on his right foot,
 he buckles his sheepskin on the wrong side. He does not have a shadow, his
 blood is blue. He is looking at something else. I don't know what. Maybe soul?
 His look is blunt and his pupils are small. I kissed him in the neck, exactly the
 place where the Adam's Apple is.
  
 * * *
  
                          If you were living just across and if I were a tree
                          In that yard,
                          I'd delight you with fruit,
                          I'll be watered with your glimpse,
                          just look at me in ardor,
I'd bear the sweetest fruit for  YOU.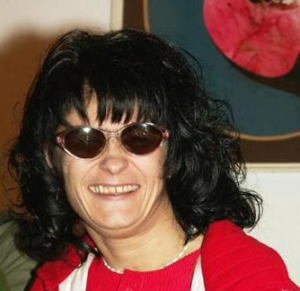 Tatjana Debeljački, born on 23.04.1967 in Užice. Writes poetry, short stories, stories and haiku. Member of Association of Writers of Serbia – UKS since 2004 and Haiku Society of Serbia – HDS Serbia, HUSCG – Montenegro and HDPR, Croatia. A member of Writers' Association Poeta, Belgrade since 2008, member of Croatian Writers' Association- HKD Croatia since 2009 and a member of Poetry Society 'Antun Ivanošić' Osijek since 2011, and a member of "World Haiku Association" – 2011, Japan. Union of Yugoslav Writers in Homeland and Immigration – Belgrade, Literary Club Yesenin Belgrade. Member of Writers' Club "Miroslav – Mika Antić" – Inđija 2013, Writers' Association "Branko Miljković" – Niš 2014, and a member of Japan Universal Poets Association (JUNPA). 2013. "Poetic Bridge: AMA-HASHI (天橋) Up to now, she has published four collections of poetry: "A HOUSE MADE OF GLASS ", published by ART – Užice in 1996; collection of poems "YOURS", published by Narodna knjiga Belgrade in 2003; collection of haiku poetry "VOLCANO", published by Lotos from Valjevo in 2004. A CD book "A HOUSE MADE OF GLASS" published by ART in 2005, bilingual SR-EN with music, AH-EH-IH-OH-UH, published by Poeta, Belgrade in 2008."HIŠA IZ STEKLA" was translated into Slovenian and published by Banatski kulturni centar – Malo Miloševo, in 2013 and also into English, "A House Made of Glass" published by »Hammer & Anvil Books» – American, in2013. Her poetry and haiku have been translated into several languages.





www.facebook.com/PoetryLifeTimes
www.facebook.com/Artvilla.com
robin@artvilla.com
editor@artvilla.com


goodreads.com/author/show/Robin Ouzman Hislop
http://www.aquillrelle.com/authorrobin.htm
http://www.amazon.com. All the Babble of the Souk. Robin Ouzman Hislop
www.lulu.com. All the Babble of the Souk. Robin Ouzman Hislop
https://www.amazon.com/author/robinouzmanhislop
http://www.innerchildpress.com/robin-ouzman-hislop.All the Babble of the Souk