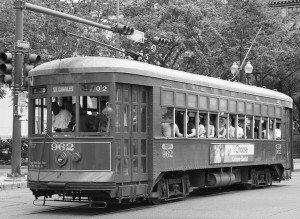 I sing a streetcar serendipity,
pralines and beignets, king cakes and pears,
a chicken pot pie from The Pie Lady,
mango, banana, Mr. Okra's wares.
I sing of the sweet Sweet Street Symphony,
of improvised signage by Dr. Bob,
the half-folded fan of the Marigny,
be nice or get yourself a new paint-job.
I sing Jackson, I sing Congo and Pops,
jazz, blues, Dixieland, or gospel menu,
the iPhones of the rookie female cops,
the Quarter and the Faubourg; I sing you
the Gutter Punk's hat where a quarter drops,
the boys, the girls, the creoles and the whites,
the seedy bars, the dance that never stops,
the lost blue of days, the yellow of nights.



Bio – Marie Marshall (3rd person)
MM is a middle-aged Anglo-Scottish author, poet, and editor, who says little about herself, preferring to let her writing speak. She has had three novels published, two of which are for the young adult / older children readerships. Both of her collections of poetry are currently in publication. Naked in the Sea (2010) in its 2nd imprint, is available in e-book form direct from publishers P'kaboo and in Kindle version on Amazon; the 1st imprint may still be available in print, if you enquire at Masque Publishing of Littlehampton. I am not a fish, nominated for the 2013 T S Eliot Prize, may be bought direct from publishers Oversteps Books. Marie has had well over two hundred poems published in magazines, anthologies, etc., but has not submitted anything since 2013. The most unusual places in which her poetry has appeared are on the wall of a café in Wales, pinned to trees in Scottish woodland, and etched into an African drum in New Orleans Museum of Art.






www.facebook.com/PoetryLifeTimes
www.facebook.com/Artvilla.com
robin@artvilla.com
editor@artvilla.com

goodreads.com/author/show/Robin Ouzman Hislop
http://www.aquillrelle.com/authorrobin.htm
http://www.amazon.com. All the Babble of the Souk. Robin Ouzman Hislop
www.lulu.com. All the Babble of the Souk. Robin Ouzman Hislop
https://www.amazon.com/author/robinouzmanhislop
http://www.innerchildpress.com/robin-ouzman-hislop.All the Babble of the Souk