Enigmatic winds
curl up into fragments of breezes
drilling into the death of winter
embracing the hologram of breathing sand.
 
River beds,
as they embark
upon the edges of southern winds
and Conifers scream their complaints from the north,
focus of life desolately oscillates
as a beacon  from light houses
with paws of the carrier Griffin
proceeding in the shades,
improvising posthumous caveats
popping up as robot heads of night guards.
 
Pages of an expedition
crumble beneath old pirate-ships
(roaming in a nomadic famine struck by avarice)
fall in and spread again
upon the cushion of rootless waters
led by enigmatic winds
in unfolded folds of untold tales.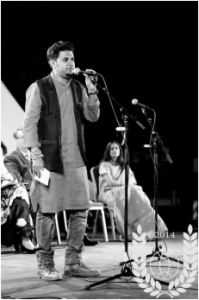 Sonnet Mondal is an Indian poet of the twenty first century generation and has authored eight collections of poetry. He was featured as one of the Famous Five of Bengali youths by India Today magazine in 2010 and has edited & written forewords of several books of Indian poets. His works have appeared in several international literary publications including The Sheepshead Review (University of Wisconsin, Green Bay), The Penguin Review (Youngstown State University), Two Thirds North (Stockholm University), Fox Chase Review, The Stremez (Supported by The Ministry of Culture, Macedonia), California State Poetry Quarterly (California State Poetry Society), Nth Position, Dark Matter Journal(University of Houston-Downtown) and Friction Magazine (New Castle University & New Castle Centre of Literary Arts) to name a few.

He has been Writer of The Month at the Spark Magazine in June 2012, was featured as an achiever in The Herald of India in 2010 & featured in E-view points in Rockfordkingsley ltd. in 2012 and was a featured poet at Tea with George at Desperanto Publication Ltd. (now defunct).

His works have been translated in Macedonian, Italian, Albanian, Urdu, Arabic, Hindi, Telugu and Bengali.

He is the Editor in Chief of The Enchanting Verses Literary Review and Editorial Board member of Multilingual Magazine Levure littéraire based in Paris, France. Details of his works can be found at www.sonnetmondal.com

www.facebook.com/PoetryLifeTimes
www.facebook.com/Artvilla.com