BlackMan Sitting on the Rock of American History
(1992 edition of the African American Review featuring Harlem Renaissance artist William H. Johnson's 1944 oil painting "Moon Over Harlem.")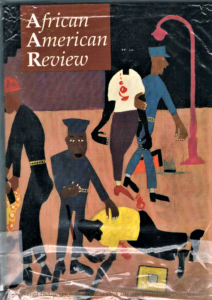 Some people like to say history is repeating itself when we experience extreme events similar, or almost identical, to incidents which have occurred before. I prefer to think of history as a teacher who gives us repeated opportunities to correct ourselves.
Take, for example, the protests and riots which have followed the death of African-American George Floyd after white American police officer Derek Chauvin took an unpatriotic knee on Mr. Floyd's neck. It was something much of America's diverse population found almost impossible to comprehend following recent killings of two other African Americans: Ahmaud Arbery and Breonna Taylor.
The riots themselves bring to mind the Red Summer of 1919, when tensions created by years of lynchings, chronic unemployment, population migrations, and Jim Crow apartheid exploded in the form of riots all over America. What happened in the 1960s and 1970s (not to mention the 1992 Los Angeles riots) is also well-known.
We like to believe the dominant theme of American History is the quest for a practice of freedom framed within refined concepts of democracy. And that may very well be so. But such a noble theme becomes meaningless without mindfully recognizing the need to always strive for equal rights and opportunities for all of the country's culturally unique communities We are aware of the errors of racism, sexism, and other regressive isms of the past. Over the centuries, our good teacher history has sat us down, or sometimes made us stand up, and pay closer attention to how and why we can and must: do better to get democracy right.
The image shared with this post was previously included in a visual bibliography shared on Facebook. It is the cover of a well-preserved 1992 copy of The African American Review featuring Harlem Renaissance artist William H. Johnson's 1944 oil painting "Moon Over Harlem." Johnson's painting is eerily similar to too many real-life scenes experienced this year alone.
My poem "Blackman Sitting on a Rock" was published in the review and reads like this:
BLACKMAN SITTING ON A ROCK
(from I Made My Boy Out of Poetry)
madness like a sugarcoated bruise
paints your face the same
color as frozen lava.
affection is a dead angel
adding up history's betrayals
in the center of your soul's ponderings.
your smile a poem
sung in languages
you have never understood.
I thought about this poem partly because of the almost overwhelming sense of grief and despair many are experiencing right now and while the late musical genius Prince's beloved Minneapolis, Minnesota, burned like Rome. Partly because of the deaths of George Floyd, Ahmaud Arbery, Breonna Taylor, and any number of others whose lost lives were not recorded on video. Partly: because of the disproportionate number of black and brown lives claimed by the 2020 coronavirus pandemic. Although the tone of the poem reflects some of that, it has never been intended as a definitive statement on the African-American or general American story. It was and is a response to something we are still trying to get right.
Bigotry, xenophobia, and chaos cannot be allowed pull off a coup and label it patriotism. As I said in my response to noted author and humanitarian Frederick Joseph's Twitter video commentary on George Floyd's murder, African Americans are not just one more minority demographic in America. Regardless of whose names do or do not appear on the United States Constitution and The Declaration of Independence, African American men and women are co-founders of this great country admired by so many across the globe.
Often accompanied by allies of European, Hispanic, Asian, or Native descent, we have put in far too many centuries infusing the concept of democracy with flesh and blood struggles and sacrifices to help make that abstract dream for billions of people: something closer to a measurable concrete reality. History has been a very patient teacher and now is the time to become more committed students and graduates.
Aberjhani
author of Dreams of the Immortal City Savannah
co-author of Encyclopedia of the Harlem Renaissance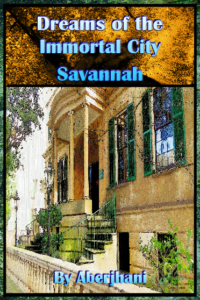 Creds etc: This is the cover of a well-preserved copy of the 1992 edition of the African American Review featuring Harlem Renaissance artist William H. Johnson's 1944 oil painting "Moon Over Harlem." Inside in the review's first poetry section is "Black Man Sitting on a Rock" by Aberjhani.
Bio: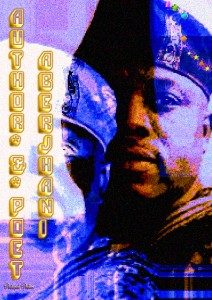 The American-born author Aberjhani is a widely-published historian, poet, essayist, fiction writer, journalist, and editor. He is a member of PEN International's PEN American Center and the Academy of American Poets as well as the founder of Creative Thinkers International. He launched the 100th Anniversary of the Harlem Renaissance Initiative in 2011 and during the same period introduced netizens to concept of guerrilla decontextualization via a series of essays and website of the same name.
He has authored a dozen books in diverse genres and edited (or sometimes co-edited) the same number. His published works include the Choice Academic Title Award-winning Encyclopedia of the Harlem Renaissance, the social media-inspired Journey through the Power of the Rainbow: Quotations from a Life Made Out of Poetry, the modern classic ELEMENTAL The Power of Illuminated Love (a collection of ekphrastic verse featuring art by Luther E. Vann), and the frequently-quoted poetry collection, The River of Winged Dreams.
Among his works as an editor are the Savannah Literary Journal (1994-2001), plus the Civil War Savannah Book Series titles: "Savannah: Immortal City" (2011), and "Savannah: Brokers, Bankers, and Bay Lane-Inside the Slave Trade" (2012). In 2014, Aberjhani was among a limited number of authors invited to publish blogs on LinkedIn. You can learn more about the author at Creative Thinkers International, on Facebook, Twitter, or his personal author website at author-poet-aberjhani.info
Robin Ouzman Hislop is Editor of Poetry Life and Times ; You may visit Aquillrelle.com/Author Robin Ouzman Hislop about author. See Robin performing his work Performance (University of Leeds)