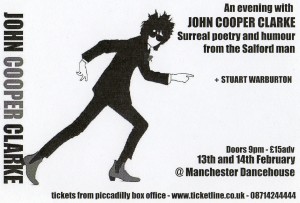 John Cooper Clarke (born 25 January 1949) is an English performance poet who first became famous during the punk rock era of the late 1970s when he became known as a "punk poet".He released several albums in the late 1970s and early 1980s, and continues to perform regularly.

His recorded output has mainly centred on musical backing from the Invisible Girls, which featured Martin Hannett, Steve Hopkins, Pete Shelley, Bill Nelson, and Paul Burgess.

In July 2013, Clarke was awarded an honorary doctorate of arts in "acknowledgement of a career which has spanned five decades, bringing poetry to non-traditional audiences and influencing musicians and comedians" by the University of Salford. Upon receipt, Clarke commented: "Now I'm a doctor, finally my dream of opening a cosmetic surgery business can become a reality."

Clarke's poem "I Wanna Be Yours" was adapted by Arctic Monkeys and frontman Alex Turner for the band's fifth album, AM, released on 9 September 2013. Speaking about the poem to the NME '​s Matt Wilkinson, Clarke said:

I wrote it along with a load of others at the time, I tend to write like that. I remember when it was – about '83 or '84 or something like that. It's come to my attention that it's the wedding favourite. The number of people that have said, "I had that read at my wedding", or "My husband proposed to me using that number"… It's been very useful in the world of modern romance! It is to modern wedding ceremonies what "Always Look on the Bright Side of Life" by Eric Idle is to humanist funerals. I probably go to a great many more funerals than you do, so take it from me.



YouTube responded with an error: The request cannot be completed because you have exceeded your <a href="/youtube/v3/getting-started#quota">quota</a>.
editor@artvilla.com
robin@artvilla.com
www.facebook.com/PoetryLifeTimes
www.facebook.com/Artvilla.com