The earliest animations were flip cards. Early movies with their jumpy screens seem more like art but animations in everybody's mind start with a certain mouse and Disney. We think of the individual frames as art as well as the animation. Erin Anfinson is playful but introspective. It is the animation video as a whole which suggests art as the genre. The animation is art and the artist searches for a motif as in all expressions. It's a different suggestion than Warhol's sleeping man, and it's simply expressed but I get it. The sleeping man may be art but it's, well, you know, boring. Erin's videos wake us up instead.
via Erin's Animation Page……"
A stop-motion project inspired by a chapter from Alan Lightman's book, Einstein's Dreams.
Music: Bach: Cello Suite No. 5 in C minor BWV 1011, Performed by Colin Carr, licensed by the Isabella Stewart Gardner Museum, Boston (Creative Commons BY-NC-ND)gardnermuseum.org
Erin received a BA in Studio Art from the University of Northern Iowa in 2001 and completed an MFA in painting at the University of Connecticut in 2003. Her paintings, encaustic works and stop-motion animations have been exhibited in a variety of national exhibitions. We found her paintings, drawings, and her site is beautifully done.
Erin Anfinson's You Tube Channel Erin Anfinson Films is a place to save. The graphics and images are as interesting as film and goes along with our efforts to blend the arts, often with videos.
Ya just gotta go for the cicadas, ya gotta"….Jake
I'm from Tennessee and the cicadas, especially the 17 year cicada represents, for me, the passage of time and the marking of epochs in a life. It's a pretty long time, 17 years and we only get a few cicada awakenings and remember them we do. Like mayflies and other insects they certainly make their habits known. I like this little graphic art about the cicada. Love these images.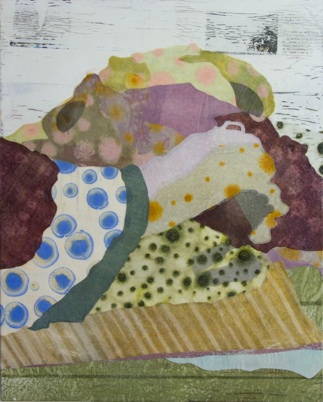 Found Still Life 2, 2012 encaustic and paper on panel 20" x 16"l…© Erin Anfinson