After Dylan on the Ninth Wave.*

The force that through the green fuse drives the flower
Drives my green age – Dylan Thomas (1914-53)

Worm's Head on Rhossili beach's
Rocky peninsula
Crags that jut in the eye's squint.
A bellying belly capped by a pixie cone
In a turn around bay, on a turn around tide.

Long levelled backwater mud banks
Bogged to the edge of another shore
Down dusk grey fallen sky
Misted on slow dark billowy waters
Slip to the rippling sand's brink
Break with a sigh from the far horizon's
Foggy veil's sheeting light
That winks in the blink of a squint
As clouds rush down, head on.

Whilst the man on the hill
Beach up from the dune in heather, fern
Cliff path & bleats of rolling flocked wool
Wanders side on against Gods & Goddesses.
The might on high of ancient deities at play
In their buffoonery with the day
As they rollicked & frolicked
Harangued & battled for naught
Other than gainsay for the man on hill.
To push him & pull him, hither & thither
As his shadow swelled & swathed him
Down under into the rock below
Whilst they in their lightning & terrible frightening
Also would fall from their lofty citadel
Although immune from his suffering
To rage, rage against the dying of the light
To like him in their burial.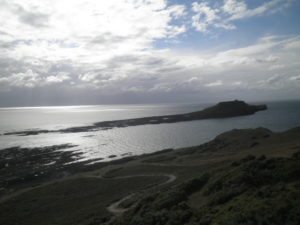 Worm's Head on the Gower Peninsular was a well known haunt of the Welsh poet Dylan Thomas, also known for his prodigious drinking bouts from which he sadly died at the age of 39 in a New York bar. It is recorded he was once stranded on the Worm's Head when cut off by the incoming tide from the mainland. Origins of the name Dylan in pagan mythology can be found in the Mabinogion, where he is described as the Son of the Wave, a Sea God born of the Goddess Arianrhod. Robert Graves in the White Goddess describes the mythological source of Dylan, as the Divine Child born on the Ninth Wave and sometimes ancient graphics depict a naked man caught by fishermen in a net are held to refer to Dylan. Its etymology variously ascribes the root as 'The wave that floods', 'The flood that recedes' and 'The tide that returns'.

Lines in italics from Dylan Thomas's Birthday Poem at Laugharne Bay & Do not go gentle into that good night.'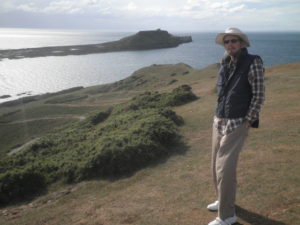 robin@artvilla.com
PoetryLifeTimes
Poetry Life & Times
editor@artvilla.com
www.artvilla.com
Artvilla.com
All the Babble of the Souk