(i.)

Tough Luck

The ice was too thin
             no one could help
the swan its foot caught
             in ice on Walloon

All we could do is watch
            or not watch
as I chose to do

It was an eagle
          my neighbor said
that finished it off




(ii.)


Factory Boss      

                                  After Henri Rouart in Front of His Factory,
                                             a painting by Edgar Degas

He is the pre in post-industrial,
            the buttonuped daddy of 'em all,
the tophatted, mustached, cigar smoker
            who paid his workers in turkeys
and Christmas ornaments.

Behind him his factory is shuttered— 
            lonely as a Satie gymnopedie.
His workers port lunch pails,
            peasant shirts soiled from
poisonous toil in stacks of smoke.

This boss, the putrescence of production,
            caresses the creases of his pants 
while his watch and fob dangle 
             from the pockets of his waistcoat.

His gaze knife-edged, he opens 
             the cover of his Elgin. 
It's time, he thinks, for the second shift.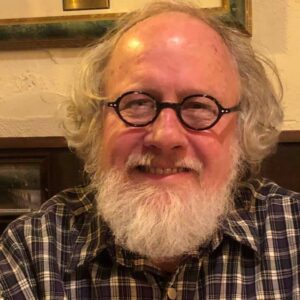 My bio: Charlie Brice is the winner of the 2020 Field Guide Magazine Poetry Contest. His fourth poetry collection is The Broad Grin of Eternity (WordTech 2021). His poetry has been nominated for the Best of Net Anthology and three times for a Pushcart Prize and has appeared in The Atlanta Review, Chiron Review, The Paterson Literary Review, The Sunlight Press, Sparks of Calliope, and elsewhere.
Robin Ouzman Hislop is Editor of Poetry Life and Times at Artvilla.com ; You may visit Aquillrelle.com/Author Robin Ouzman Hislop about author & https://poetrylifeandtimes.com See Robin performing his work Performance (University of Leeds)