The slow long twist of the crowd toward its burden
Of vacant street  and empty homes loud with tedium
From six-ish Eyes on News until cynical midnight comic.
The long slow twist of breadwinners' faces half in panic
Over what's for supper and afterward dialog unrehearsed,
Unscheduled, unexpectedly possibly leading into sex or
Negligee fantasies of we were once young, pretend for
Awhile we are still young with hard skins tanned
Like grapefruit you and I lavish in love in our bed
At our ripeness and rightness of pealing for juices.
The slow long twist of the crowd toward boredom
Of suburbs and stagnant traffic of women frantic
In their coffin cars to arrive at home before him,
To greet husband as if all day spent alone at home
Not wet between thighs from grocerystore bagboys,
Flirtations with delivery men brownshirted strong
With box gifts from dial-up-goody channels, some
Actually will talk to them, pick up a phone, chat
Like old friends reacquainted, then order a trophy
For the mantel, to remember delivery, her credit
card number surrendered, she signs for the memory.
The slow long twist of the crowd moves slowly along
Alongside yellowslip riots of kids driven from school
To their blank torments of TV. All of them, all of them
In the slow long twist of the crowd toward its tedium.
Why do they go home–cocooned at office–in boredom.
They love the private mob of familiar pain.
Hi Honey, what's for dinner, not

that

again.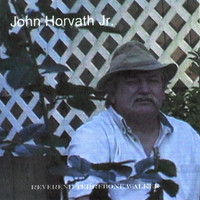 Southside Chicagoan and second-wave immigrant John Horváth Jr. now lives in Mississippi; he has published his poetry nationally and internationally since the 1970s. "Doc" Horváth has taught creative writing, literary criticism, and theory. Having been an online mentor to new and emerging poets, in November 1997 he published and now edits poetryrepairs.com [www.poetryrepairs.com], a zine dedicated to promoting contemporary international poetry.
"Veteran of two wars, retired Professor of English in Mississippi, the poet with a unique and brilliant and cutting perspective of southern culture and religion teams up with talented musicians to produce something quite unique. The language of the Veteran and the south and poetic style with good music."…..David Michael Jackson, www.artvilla.com
See also:  Excerpt from Blues Man Joe from the Album Reverend Terrebone Walker John Horvath Jr. Label The buy link at… http://fb.me/2T11LMNlh
[email protected]
[email protected]
www.facebook.com/PoetryLifeTimes
www.facebook.com/Artvilla.com