(i.)
A world made from the refuse of a higher world of culture,
a domain of trash, immature myths, inadmissible passions…
City is stench of alewife millions inextricably dead on pebbled
beaches after icebreaks on Lake Michigan. Fisheyes reflecting
beached debris and the latest arrivals arriving amid girder and
concrete Sullivans and Wrights. They as did them who built the
buildings join the city to become steel or slag, oiled machine,
Empty belongings from cars: Packard backseat divans, fruitcrate
end tables, curtains of plastic, crazy quilts, heirlooms, family
icons. On once cobbled streets, children are tribal on the curb–
at the edge of the world–displaying their valorous conquests
of enemies left behind, ancient or old, forgotten–no, in the city
Work is rock: hard underfoot raucous dance of souls like morning
mists that settle, rise, vanish in the same low empty spaces–like
dunes that wander from waste to waste over farmlands abandoned.
The village known by its brokenness–That friend in the mist
boiled in oils from broken pipelines; The neighbor there in the mist
butchered by ingots thrown from rollers; There in the mist a father
crushed in the presses. Around the dancehall wallflower daughters
painted for paychecks recognize brothers and sons who in the mists
begin to belong to the city.
City is forge: rhythm out of the afternoon cacophone language of traffic-trapped
cousins cursing the ongoing babble of sledges and hammers that encircle their
metallic-tint enclaves of gas dreams. Afraid to unignite engines and escape, leap
the icefloes of autos jammed forever up and down stream–Ford, Dodge, Chevrolet,
Dodge, pimpwagon, Volkswagen, Dodge, druglord Mercedes, turn-about, run.
Who walks here passes into stone unfinished.
There faces are the sculptures of workdays beaten into their souls
over time that begins with the end of their villages, farms, families.
City is history. From Hoosier Dunes to Chicago Loop, then circle
      back again, down Dan Ryan to East-West 90 Interstate, round
      from Kankakee and Little Calumet to the temple of the rich,
      archaeology dreamlit with comers refusing to melt into mist
      later and earlier, 1846, late 80, 1926, 46, 56, today or after,
      maybe another time altogether and around every corner a new
      homeland where it's always the Springtime and waves roll
      onto the lakeshore leaving new stenches of alewives with
      dead eyes rushing toward Bedlam out of old whoring Babylons
      across dead seas, across rolling vast flatlands.
               Come like belligerent hordes to the mills
      where summer heat sparks from dried loins,
      muscular shapes–like salted meats–boil
      onto asphalt murdering of thought, never
      take home the punishment, trouble, dirt,
      or the danger of workplace. Consumption
      and power in sweet sweaty hands gripping
      hot steering wheels along potted streets
      narrowly leading toward quiet exhaustion
      proud of private slow death for girders,
      rails, and–for the wealthier–appliances
      (sons and daughters desiring such honors
      follow footsteps of foolhardy martyr fathers.
      They dream they will conquer the dragons
      that spat the flames that marked fathers
      who worked in the mills for a living but
      only inherited scars like the slavebrands
      their daddies had carried as birthright).
A man hears himself saying what his father had said his son would
say when he looks into his rearview mirror mirroring traffic come
to a halt like Lot's wife; He hears himself cursing his father's
curse when he curses that self like himself stalling all forward
movement. In a language of the dead, sinner and saint correspond.
      When passion has gone after the work must end
      alone in the heat of coffin-like cars dead in
      the end of shift traffic, ghosts come to say,
      you, you are the father who brought you here.
      you are the mistaken idea of rescue beyond the village walls
      escape into purgatory of factory days from the hell of knowing
      every valley dweller by name and the dates of their first loves.
This is the city: when you look back on what it was to you when
you were mocked neutered and cowered, primmed for display in it,
bled by it, when you have fled from it, left someone behind in it,
when you are gone from it, when you are gone… the city is yours.
The city is history. Rebuild its monuments. Make way for boulevards;
Leave the façades, the mirroring windows, the pointed roofs, the false
faces of what you've made and the chimneys
whose rich dark smoke recall death's communards.
This city is yours. It is where your child blew her first kiss away,
      It is where your sons blooded their first enemies, where all
      the passions denied you long ago from some false sense of dignity,
      honesty, integrity, the church that held like glue together family,
this city is yours now that all that is past.
It is your country to where the street signs end,
to where garbage is taken and the dead are buried.
Cartwrights and sailors and farmers
leaving families, histories, icons,
you came to this blast-furnace city
as if God's own breath blew through
its chimneys a forgiveness of greed
but you were not the first to come:
Endlessly East moves West,
West moves endlessly East,
toward Calumet drab smoke,
into cauldrons and furnace,
into the moments of common
machine and common labors,
into this moment of common language.
Strangers forged into a new race.
not a slightest movement–
could have been differently.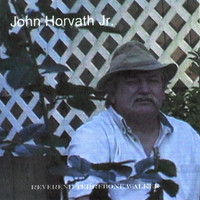 Southside Chicagoan and second-wave immigrant John Horváth Jr. now lives in Mississippi; he has published his poetry nationally and internationally since the 1970s. "Doc" Horváth has taught creative writing, literary criticism, and theory. Having been an online mentor to new and emerging poets, in November 1997 he published and now edits poetryrepairs.com [www.poetryrepairs.com], a zine dedicated to promoting contemporary international poetry.
"Veteran of two wars, retired Professor of English in Mississippi, the poet with a unique and brilliant and cutting perspective of southern culture and religion teams up with talented musicians to produce something quite unique. The language of the Veteran and the south and poetic style with good music."…..David Michael Jackson, www.artvilla.com
See also:  Excerpt from Blues Man Joe from the Album Reverend Terrebone Walker John Horvath Jr. Label The buy link at… http://fb.me/2T11LMNlh
[email protected]
[email protected]
www.facebook.com/PoetryLifeTimes
www.facebook.com/Artvilla.com