I fold like a flower when the wind blows
blood across a tired sky. My arms curl
in semblance of an infant, almost without
bones. My back bows in archaic pose,
not quite rose, yet so much more than weed.
This crumpling is automatic, permanent
imprints in my skin seem
to follow the pull of a moon yet to appear.
I breathe out a husky blue,
watch it circle, settle, dissolve beneath forbidden
waves as my eyes wait for ethereal tape
to force them to sleep.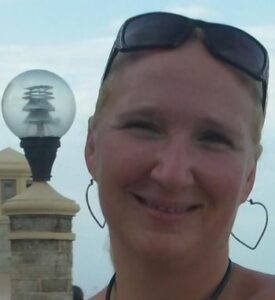 A.J. Huffman has published fourteen full-length poetry collections, fifteen solo poetry chapbooks and one joint poetry chapbook through various small presses. Her most recent releases, The Pyre On Which Tomorrow Burns (Scars Publications), Degeneration (Pink Girl Ink), A Bizarre Burning of Bees (Transcendent Zero Press), and Familiar Illusions (Flutter Press) are now available from their respective publishers. She is a five-time Pushcart Prize nominee, a two-time Best of Net nominee, and has published over 2600 poems in various national and international journals, including Labletter, The James Dickey Review, The Bookends Review, Bone Orchard, Corvus Review, EgoPHobia, and Kritya. She is the founding editor of Kind of a Hurricane Press. You can find more of her personal work here: https://ajhuffmanpoetryspot.blogspot.com/








Robin Ouzman Hislop is Editor of Poetry Life and Times at Artvilla.com ; his publications include

All the Babble of the Souk , Cartoon Molecules, Next Arrivals and Moon Selected Audio Textual Poems, collected poems, as well as translation of Guadalupe Grande´s La llave de niebla, as Key of Mist and the recently published Tesserae , a translation of Carmen Crespo´s Teselas.

You may visit Aquillrelle.com/Author Robin Ouzman Hislop about author. See Robin performing his work Performance (University of Leeds)