Hamlet: Act III, Scene I. A Room in the Castle
Ophelia
And I, of ladies most deject and wretched,
That suck'd the honey of his music vows,
Now see that noble and most sovereign reason,
Like sweet bells jangled, out of tune and harsh
That unmatch'd form and feature of blown youth
 Blasted with ecstasy: O, woe is me,
 To have seen what I have seen, see what I see!
 William Shakespeare (1564―1616):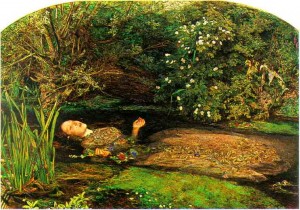 Adrift amid the bindweed, through the reeds,
Watching the sky with deep unblinking eyes,
She passes where the turquoise mayfly feeds,
Oblivious of all that swims or flies.
Red flowered chiffon billows to her hands
Open like water lilies in the sun,
Her skin's the colour of tropical sands,
Her russet hair shines bright as copper spun.
Fabulous jewels languish on her breast,
Rich spoils of love rendered useless in death,
Her parted lips make unspoken behest;
The rosy portal of her final breath.
Now all is cold where roiling passion flamed,
As jealous earth mourns what the river claimed.
Sara Louise Russell , whose internet name is "PinkyAndrexa", is a UK poet who has earned a well-deserved reputation as a highly respected twenty-first century poetry publisher and poet. She was the founder and Editor-in-Chief of Poetry Life & Times, one of the world's premier poetry E-zines, which ran monthly from 1998-2006 under her tutelage. She has always been in on the scene with graphic design, animation, 3D art, web design, sign writing, photography, film and poetry recital videos. Sara is founder and current editor of Poetry Lifetimes and the online Ning network The Video Poets. Her poetry has been published in Artvilla, AuthorsDen, Hello Poetry, The New Pleiades Anthology of Poetry (Describe Adonis Press, Ottawa, © 2005), Sonnetto Poesia, Word Machinist and more, as well as in several e-books by Kedco Studios Inc. (USA). Her skills as a sonneteer are particularly remarkable.
Richard Vallance, editor-in-chief. The Phoenix Rising from the Ashes: Anthology of sonnets of the early third millennium = Le Phénix renaissant de ses cendres : Anthologie de sonnets au début du troisième millénaire. Friesen Presse, Victoria, B.C., Canada. © 2013. approx. 240 pp. ISBN Hardcover: 978-1-4602-1700-9 Price: $28.00 Paperback: 978-1-4602-1701-6 Price: $18.00 e-Book: 978-1-4602-1702-3 Price: TBA
300 sonnets & ghazals in English, French, Spanish, German, Chinese & Persian.
30 sonnets in this anthology are to be pre-published by our permission in Poetry Life & Times (UK) which has exclusive sole rights prior to the publication of the anthology itself. Readers may also contact Richard Vallance, Editor-in-Chief, at: [email protected] for further information.http://vallance22.hpage.com/
***
Painting Ophelia John Millais
***