(i.)

EXOTIC BIRDS

i love the substance
of eccentric style
in your beauty-
the enchanting glance
of old fashioned romance
in your smile
that softly soothes me
after the external joust dust
of modernity
settles
on precious metals
sought by Faustus
stealing gas and oil
from African soil.
i love the dink
in the middle of your back
where my fingers sink
when i trace and track
the road of your spine
in perfect sync
of mind with mine.
i last, near and far
in your scented clouds of cinnabar,
singing, with you, want you, words
like intoxicating exotic birds-
ready to leave poisonous suburbs
to disturbed self and same
arrogant and vain
vices and vines
embracing abyss in eclipsed times.

(ii.)

LIFE IS FLAMENCO

why can't i walk as far
and smoke more tobacco,
or play my Spanish guitar
like Paco,
putting rhythms and feelings
without old ceilings
you've never heard
before in a word.

life is flamenco,
to come and go
high and low
fast and slow-

she loves him,
he loves her
and their shades within
caress and spur
in a ride and dance
of tempestuous romance.

outback, in Andalucien ease,
i embrace you, like melted breeze
amongst ripe olive trees-
dark and different,
all manly scent
and mind unkempt.

like i do,
Picasso knew
everything about you
when he drew
your elongated arms and legs
around me, in this perpetual bed
of emotion
and motion
for these soft geometric angles
in my finger strokes
and exhaled smokes
of rhythmic bangles
to circle colour your Celtic skin
with primitive phthalo blue
pigment in wiccan tattoo
before entering
vibrating wings
through thrumming strings
of wild lucid moments
in eternal components.

i can walk as far
and smoke more tobacco,
and play my Spanish guitar
like Paco.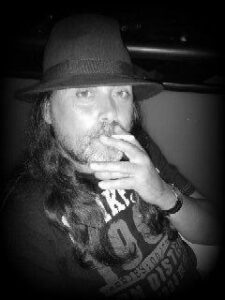 Strider Marcus Jones – is a poet, law graduate and former civil servant from Salford, England with proud Celtic roots in Ireland and Wales.
A member of The Poetry Society, his five published books of poetry https//stridermarcusjonespoetry.wordpress.com
reveal a maverick, moving between cities, playing his saxophone in smoky rooms.
——————————————
His poetry has been published in the USA, Canada, Australia, England, Scotland, Ireland, Wales, France, Spain, Germany; Serbia; India and Switzerland in numerous publications including: The Piker Press; Dreich Magazine; The Racket Journal; Trouvaille Review; dyst Literary Journal; Impspired Magazine; Literary Yard Journal; Poppy Road Review; Cajun Mutt Press; Rusty Truck Magazine; Rye Whiskey Review; Deep Water Literary Journal; The Huffington Post USA; The Stray Branch Literary Magazine; Crack The Spine Literary Magazine; The Lampeter Review; Panoplyzine Poetry Magazine; Dissident Voice.









Robin Ouzman Hislop is Editor of Poetry Life and Times at Artvilla.com ; his publications include

All the Babble of the Souk , Cartoon Molecules, Next Arrivals and Moon Selected Audio Textual Poems, collected poems, as well as translation of Guadalupe Grande´s La llave de niebla, as Key of Mist and the recently published Tesserae , a translation of Carmen Crespo´s Teselas.

You may visit Aquillrelle.com/Author Robin Ouzman Hislop about author. See Robin performing his work Performance (University of Leeds)