Considerate la vostra semenza . . .
—Dante
From when some wandering primate first discovered
that vocal cords had formed within its throat:
when thorax wind was blown, and it discovered
a modulation of its grunts, discovered
it had a tongue that could articulate
more subtly than it had presumed; discovered,
in fact, its ur-humanity; discovered
that it was different from monkeys, wiser,
and could communicate a plan; was wiser,
one than the other, in this gift; discovered,
in short, itself as special being, poet,
it sang in lamentation for the poet,
O felt itself the oddest ape, a poet,
and, with the weight of what it knew, discovered
the truest nature of itself as poet,
that it must bear the burden of the poet,
harsh bile of truth that rises in the throat
and burns the vocal cords of every poet.
For meaning murders innocence, the poet
learns, word by word; and to articulate
as in a grammar, to articulate
as words demand, and so to be a poet
is to be that most special being, stranger
than any other animal—but wiser?
It felt itself the strangest thing, much stranger
than any other animal—a poet—
for words had made it thuswise stranger.
But was it better being this much wiser?
What had this primate after all discovered?
Who really thinks it's better to be wiser?
Who doesn't know it's sadder to be wiser?
Who envies words blown through a poet's throat?
What poet hasn't wished to cut its throat?
If grammar makes for meaning, is it wiser
to be a special being, to articulate
the truth words find—or not articulate?
It may be braver to articulate,
to be an animal, yet strangely wiser,
but is it wisdom to articulate
the grunts of animals, articulate
from them the existential life of poet
among the primates, to articulate—
syntactically commanded—articulate
the place in nature that we have discovered,
the death in nature that we have discovered?
Grunt one last grunt! Enough! Articulate
no more! Oh, envy nothing from the throat
of any poet! Let it cut its throat!
Oh, let the primate poet cut its throat
before it's forced on to articulate,
by sending lamentations through its throat,
from its self-fabled heart and out its throat,
how truly sad it is to be a little wiser
than other animals that have a throat
but have no vocal cords within that throat
which they can use to make themselves a poet
who sings the lamentations of a poet,
a sadder wiser primate prophet poet,
whose ordered language has at last discovered
what happy animals have not discovered . . . .
What is it animals have not discovered,
which leaves them happier than any poet?
The ordered thought of death! It might be wiser
for nature never to articulate.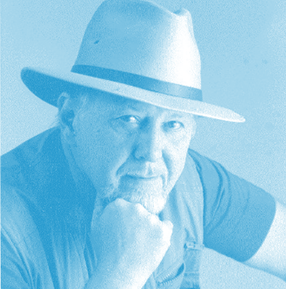 Schorb's work has appeared in Agenda (UK), The American Scholar, The Carolina Quarterly, The Hudson Review, The Southern Review, Stand (UK), The Sewanee Review, The Virginia Quarterly Review, The North American Review, Poetry Salzburg Review (AU), The Yale Review, and Oxford Poetry (UK), among others.

His collection, Murderer's Day, was awarded the Verna Emery Poetry Prize and published by Purdue University Press, and a subsequent collection, Time and Fevers, was the recipient of the Writer's Digest International Self-Published Award for Poetry and also an Eric Hoffer Award.

Most recently, his novel R&R a Sex Comedy was awarded the Beverly Hills Book Award for Humor.
Robin Ouzman Hislop is Editor of Poetry Life and Times at Artvilla.com ; You may visit Aquillrelle.com/Author Robin Ouzman Hislop about author & https://poetrylifeandtimes.com See Robin performing his work Performance (University of Leeds)