(i)

An Unpaused Hour

Nine tings chase sanity.
Our guru twiddles
A crow's sequined wings.
Passions jump off wheezes,
Dashed at the holdall's flames.
Breath-sucks gyrate the room.

(ii)

Bar 64

A Jagger-lipped ox
Smirks in its float-bowl.
The lampstand's crimsoning.
"Quirks," underbreaths our tiddly guru,
"Aren't without their suns".

(iii)

Breakfast Ritual

Our guru tub-thumps Ouija learning
Into an atom that coggles.
The rubber shark's dulceting
"Mack The Knife".

The Ground Of Being's egohood
Watusi's tailwards.
High-muckety, we TLC our sanctified protocols.

(iv)

Financial Break, No Cheques

This megacosm flumps –
An undisplayable apparition.
We're diluted by marvelment.

The journey's butt is an oblivion-fresh
String-puppet butterfly
That coaxes dust
In the attic of our mind fuzz.

Our guru belches –
A pixie's stage whisper.

(v)

The Mediator's Art

You've unfolded these Vanity Fair bodies
Spanning into destiny's lap.
Poppycock has no improving.
Thighs of our guru's apostles
Shall be gunked
By Dolly, the sponge-puff mermaid.

Xanadu's here, well-earthed.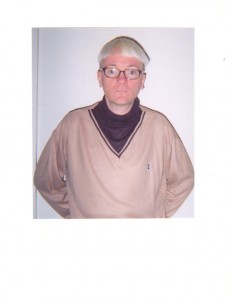 In 1998 I won a Northern Arts writers award. In July 200 I read at Waterstones bookshop to promote the anthology 'Titles Are Bitches'. Christmas 2001 I debuted at Newcastle's famous Morden Tower doing a reading of my poems. Each year I read for Proudwords lesbian and gay writing festival and I partook in workshops. 2005 saw the publication of my collection LOVEBITES published by Chanticleer Press, 6/1 Jamaica Mews, Edinburgh.

On Saturday 16Th August 2003 I read at the Edinburgh Festival as a Per Verse poet at LGBT Centre, Broughton St.

Christmas 2001 The Northern Cultural Skills Partnership sponsored me to be mentored by Andy Croft in conjunction with New Writing North. I made a radio programme for Web FM community radio about my writing group. October-November 2005, I entered a poem/visual image into the art exhibition The Art Cafe Project, his piece Post-Mark was shown in Betty's Newcastle. This event was sponsored by Pride On The Tyne. I made a digital film with artists Kate Sweeney and Julie Ballands at a film making workshop called Out Of The Picture which was shown at the festival party for Proudwords, it contains my poem The Old Heave-Ho. I worked on a collaborative art and literature project called How Gay Are Your Genes, facilitated by Lisa Mathews (poet) which exhibited at The Hatton Gallery, Newcastle University, including a film piece by the artist Predrag Pajdic in which I read my poem On Brenkley St. The event was funded by The Policy, Ethics and Life Sciences Research Institute, Bio-science Centre at Newcastle's Centre for Life. I was involved in the Five Arts Cities poetry postcard event which exhibited at The Seven Stories children's literature building.

The South Bank Centre in London recorded my poem "The Holiday I Never Had", I can be heard reading it on www.poetrymagazines.org.uk/magazine/record.asp?id=18456

REVIEWS: I have written poetry reviews for Poetry Scotland and Jacket Magazine and in August 2007 I made a film called 'A Blank Screen, 60 seconds, 1 shot' for Queerbeats Festival at The Star & Shadow Cinema Newcastle, reviewing a poem… On September 4 2010, I read at the Callander Poetry Weekend hosted by Poetry Scotland. I have also written Art Criticism for Peel and Combustus Magazines. I was involved in The Creative Engagement In Research Programme Research Constellation exhibitions of writing and photography which showed in London (march 13 2012) and Edinburgh (July 4 2013)







Robin Ouzman Hislop is Editor of Poetry Life and Times his publications include All the Babble of the Souk and Cartoon Molecules collected poems and Key of Mist the recently published Tesserae translations from Spanish poets Guadalupe Grande and Carmen Crespo visit Aquillrelle.com/Author Robin Ouzman Hislop about author. See Robin performing his work Performance (University of Leeds) and his latest Collected Poems Volume at Next-Arrivals