(i.)
Cherry Cola XXXVI

Bottled inks and dyes fill Sister's dressers,
desks and closets.
Color

confuses me when it can be labeled.
Clean bedding shares
space

with paper.

Yellow makes a case for exclamation
points and plastic.
Red

lights a flare.

Orange is loved but unexpected, unplanned,
nearly a clearing or sauce.
Purple

is nobody's child.

I sign up to conduct an experiment and end
up measuring rainbows,
eulogizing

white mice, eating lunch by myself.

(ii.)
June Bug

One of the letters
of the alphabet has golden wings.

I think about ping-pong.
I think about falling.

One of the radio stations
has letters that almost spell
a word.

I think about calling
in to request

"My Blue Heaven."

Whippoorwills and babies
fly around the room.

(iii.)
Radium

We played in the abandoned clock
factory.

We chased each other the way squirrels
chase Russian spies.

We smoked Granddad's pipe
and tried on Mother's dresses.

It was the best
of times and the wurst.

We ate liver spread on white bread
with yellow mustard

and bested the spies
who worsted the moose.

Gardens bloomed
on bedroom walls at night

when the rest of the world
stopped glowing.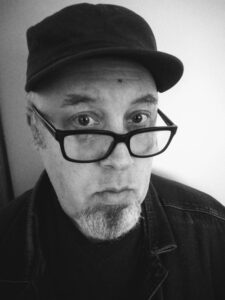 Glen Armstrong holds an MFA in English from the University of Massachusetts, Amherst and teaches writing at Oakland University in Rochester, Michigan. He edits a poetry journal called Cruel Garters and has three current books of poems: Invisible Histories, The New Vaudeville, and Midsummer. His work has appeared in Poetry Northwest, Conduit, and Cream City Review.










Robin Ouzman Hislop is Editor of Poetry Life and Times at Artvilla.com ; his publications include

All the Babble of the Souk , Cartoon Molecules, Next Arrivals and Moon Selected Audio Textual Poems, collected poems, as well as translation of Guadalupe Grande´s La llave de niebla, as Key of Mist and the recently published Tesserae , a translation of Carmen Crespo´s Teselas.

You may visit Aquillrelle.com/Author Robin Ouzman Hislop about author. See Robin performing his work Performance (University of Leeds)