Radium
Janet Kuypers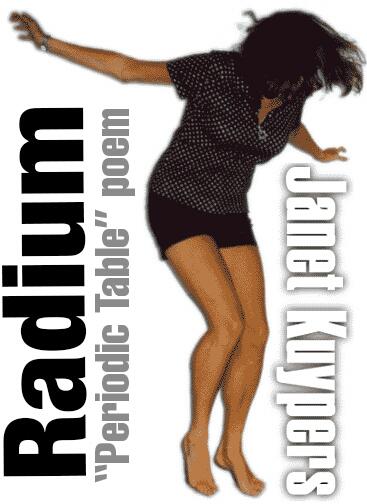 from the "Periodic Table of Poetry" series (#088, Ra)
Women got jobs
painting luminescent Radium
on clock dials —
These Radium Girls
would lick the tips
of their brushes
to get a finer point
for painting the Radium
onto these clocks,
and some of these women
even painted the Radium
on their fingernails,
or even their teeth.
But before the Great Depression
began, five Radium Girls
started getting sores,
anemia, bone fractures,
necrosis of the jaw,
and even cancer,
because when it's ingested,
the body treats Radium
like calcium, so the Radium
went straight to their bones.
They sued the Radium
Luminous Material Corporation
for damages,
because the Radium
was doing them in.
In an effort to
avoid liability,
the Radium Luminous
Material Corporation
even tried to suggest
that the Radium Girls
actually had syphilis.
Really.
That's what they said.
So although the corporation
was very careful
to not expose themselves
to Radium,
they apparently didn't have
the same concern
for their employees.
So, the Radium Girls
may now be known
for bringing on labor laws,
but scientists,
five years after
the cases were settled,
could still measure Radium
in the exhaling
of one of the painting employees.
I wonder if there was enough
Radium on their breath
to give these Radium Girls
a radioactive glow,
because at one point,
Radium was even added
to toothpastes and hair creams
because people believed
Radium had curative powers.
Imagine going to a spa
with Radium-rich water,
because if you tell
anything to people
in just the right way,
you'll be amazed
at what people will believe.