Smelling Sulphur on Nine One One
Janet Kuypers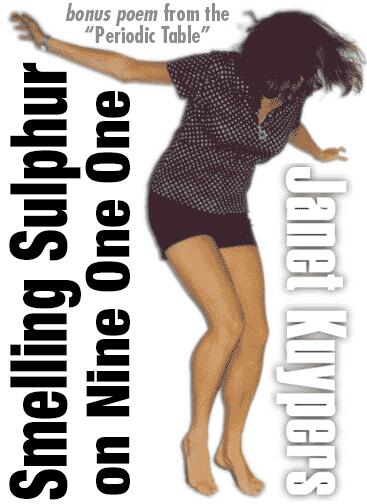 bonus poem from the "Periodic Table of Poetry" series (#016 S)
9/11/13
I'm a journalist.
I can remember
the sounds of the newsroom
as I finished my articles
at one of the computers.
I can still hear
the sounds of the bustling,
of the rushing toward a deadline.
The shuffling of papers
was a constant presence
when you worked.
Hearing that low hum,
that din of action and activity
is almost comforting
to types like us.
It was the base beat
to the symphony of our lives.
So, when you hear the words
nine one one,
you think of the number to dial
when you hear of more gun violence
on these Chicago streets.
You smell the Sulfur
in the gunpowder,
another sense
that accentuates the center
of the world around us…
But on a beautifully
sunny day like today,
you come into the newsroom
in the early morning,
and the sound of action
has yet to truly penetrate the ears
of these reporters,
with a styrofoam coffee cup in one hand,
crumpled pages of edited copy in the other.
But on this sunny morning,
the din was different,
much more cacophonous,
much more rushed,
while still so hushed.
I made my way
to one of the TV sets
along the main wall,
all were on different channels
showing different bits of news,
though all suddenly seemed the same.
It looked like the newsroom
was watching a movie
as smoke poured
from one of the Twin Towers.
I tried to make out the voices
from one of the TV sets
when I witnessed a plane —
right before my eyes —
fly into the other Tower.
I stood for a moment,
transfixed like some
horror movie addict,
before I thought of our contacts
scattered along the east coast.
I pulled out my cell phone
and speed dialed Mark in New York,
he had a meeting scheduled
in the Twin Towers that morning,
but the phone was jammed,
so I dialed up Don
who was in town there this week,
but all was lost
to computer-simulated voices,
forcing me to leave messages
and scramble from afar.
As pathetic as we were,
we stared at TVs
as most forms of communication
were cut off for us.
Was this an attack on New York,
we struggled to discover
until less than forty minutes later
we saw the two-second long film
replayed repeatedly
from a D.C. security camera
that caught a collision course
crashing of a plane
through the outer rings
of the Pentagon.
Well.
Now the story has changed.
Try to get through
to Dan in D.C.,
was he in the Pentagon today.
The phones still cut me off.
So we scrambled for any data,
looking for a Chicago connection:
the Sears Tower,
the John Hancock building,
these are national icons
that may be under attack…
But before we could gain our bearings,
only twenty-five minutes passed
before a plane crashed
into the ground
near Shanksville, Pennsylvania.
Shanksville, I thought,
I know someone there,
I searched, and found
Anna's number,
but who was I kidding.
Those lines were cut off too.
#
It's a strange feeling,
being a reporter
and not being able
to contact a single person.
Being detached from any lead,
coupled with a sinking feeling,
wondering if any
of the people you know
are physically hurt,
or even alive.
As a journalist,
you really feel hopeless,
like your hands are tied
behind your back.
We give the news.
We're not supposed
to feel so stranded.
#
An hour after
the Pentagon was attacked,
the Sears Tower was evacuated.
This wasn't my beat;
I had no contacts, no one
to help me through this disaster,
so I waited there
in case others
needed any assistance.
I sat back for a moment,
left there to wait,
thinking about
Mark and Don in New York,
Dan in D.C.,
even poor Anna —
I'm sure she's not hurt,
but they're now cut off to me.
As I said,
all I could do
was wait.
Clear your head of the people,
I could hear myself
say to myself.
You're a reporter,
just break down the details
of what you see
instead of thinking of this
as another one of your
human interest articles…
The jet fuel,
the drywall,
all that paper
in those offices,
those people,
trapped,
they're all
hydrogen, carbon, oxygen.
But wait a minute,
in Chicago I think
of the Sulfur smell
when it comes to gunfire.
But jet fuel is Sulfur-laden,
that burning drywall
emits Sulfur gas,
Sulfur's even the third most common
mineral in the human body.
I mean,
I'm a newspaper reporter.
I know that Sulfur-based compounds
are used in pulp
and paper industries.
#
Yeah, I'm a newspaper reporter.
Just take a breath
and turn your head to the stats.
To clear my head
of the humanity,
the thought of so much Sulfur
being so much a part
of so many details in our lives,
made me think
of the destruction
that Sulfur was so much
a part of today.
I know I stayed here
to give a helping hand,
but with all that Sulfur
on my mind,
suddenly
all I could smell
was the burning,
and I couldn't stop coughing
while I tried to catch my breath.