(i.)
The automatons have broken traits
 A shelf-crammer clicked out light.
 Discrepancies don't shift.
Impersonal manikins tackle the force of argument
 Ineffectually becoming a movement.  Earless
 The Bully's entrenched behind contrivances.
Tonight I'll elect to dream – heart-sinking hero
In nauseous unprofitableness behind racks.
(ii.)
Immortal is your stress, harpingly distinct.
No wind-up's in vista.  Smalt,
Incandescence of landlocked pool
Reveals air's secrets.  A Gunshot.  Dandelions
Dumb-show vehemently
Over ruins.
(iii.)
Contemplating Suicide Bridge
A churlish, unavoidably sorry-sight,
Parody of me,
Shaved before noon.  The blunt cloudburst
Prophesised was pettifogging.
A few weeding tingles bristle
Roughened at arms-length.  A skirmishanked
Corrugation of the applicability
Implicating hand, skill.
(iv.)
Tom, Dick nor Harry's the missing link,
Dead reckoned, at cross purposes.  (Tip-top shares shaft.)
Picaroons muscle-grip.
Grudge – no man-o-luck'll scan you
For faith-pinning by his false witness.
 Anticipated untruths clot in your head,
 A problem of sober provocation.
 'We'll lip-homage our liabilities
 And salt-wit say – you're speaking now.'
(v.)
Contours tumble, shifting – a blain in hordes
Peep away.  No idiosyncrasy flares here.
Prowling mist smear is slip-slop;
Corner reminiscence – a plain-dealing smile.
The humdrum malevolence?
We too are curbed.
(vi.)
House Arrest Of The Opposition Leader
The bullet-pocked wall.  Gales jingling strains.
Firm standing, repudiation –
Viciousness backing dearths.  Scupperings.
What did you bargain for?
 I'm in a fixed foreboding of undertakers,
 Well, so it peeves.
 On…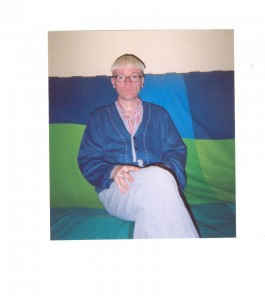 Christopher Barnes, UK. Some bio details…
In 1998 I won a Northern Arts writers award.  In July 200 I read at Waterstones bookshop to promote the anthology 'Titles Are Bitches'.  Christmas 2001 I debuted at Newcastle's famous Morden Tower doing a reading of my poems.  Each year I read for Proudwords lesbian and gay writing festival and I partake in workshops.  2005 saw the publication of my collection LOVEBITES published by Chanticleer Press, 6/1 Jamaica Mews, Edinburgh.
On Saturday 16Th August 2003 I read at the Edinburgh Festival as a Per Verse poet at LGBT Centre, Broughton St.
 I also have a BBC web-page www.bbc.co.uk/tyne/gay.2004/05/section_28.shtml and http://www.bbc.co.uk/tyne/videonation/stories/gay_history.shtml (if first site does not work click on SECTION 28 on second site.
Christmas 2001 The Northern Cultural Skills Partnership sponsored me to be mentored by Andy Croft in conjunction with New Writing North.  I   made a radio programme for Web FM community radio about my writing group.  October-November 2005, I entered a poem/visual image into the art exhibition The Art Cafe Project, his piece Post-Mark was shown in Betty's Newcastle.  This event was sponsored by Pride On The Tyne.  I made a digital film with artists Kate Sweeney and Julie Ballands at a film making workshop called Out Of The Picture which was shown at the festival party for Proudwords, it contains my poem The Old Heave-Ho.  I worked on a collaborative art and literature project called How Gay Are Your Genes, facilitated by Lisa Mathews (poet) which exhibited at The Hatton Gallery, Newcastle University, including a film piece by the artist Predrag Pajdic in which I read my poem On Brenkley St.  The event was funded by The Policy, Ethics and Life Sciences Research Institute, Bio-science Centre at Newcastle's Centre for Life.  I was involved in the Five Arts Cities poetry postcard event which exhibited at The Seven Stories children's literature building.  In May I had 2006 a solo art/poetry exhibition at The People's Theatre why not take a look at their website http://ptag.org.uk/whats_on/gallery/recent_exhbitions.htm
The South Bank Centre in London recorded my poem "The Holiday I Never Had"; I can be heard reading it on www.poetrymagazines.org.uk/magazine/record.asp?id=18456
REVIEWS: I have written poetry reviews for Poetry Scotland and Jacket Magazine and in August 2007 I made a film called 'A Blank Screen, 60 seconds, 1 shot' for Queerbeats Festival at The Star & Shadow Cinema Newcastle, reviewing a poem…see www.myspace.com/queerbeatsfestival  On September 4 2010, I read at the Callander Poetry Weekend hosted by Poetry Scotland.  I have also written Art Criticism for Peel and Combustus Magazines.
www.facebook.com/PoetryLifeTimes
www.facebook.com/Artvilla.com