Awaiting aeroplanes for separate destinations
My brother and I
Walk together
Through the old streets of Palma.
An advert tempts us toward an exhibition
Showing 15th century instruments of torture.
We visit, instead,
A commemoration.
Old photographs from World War Two.
This war began 1939
Who cares now?
Aliens
We leave the cathedral gallery.
Born in another time, we fight another battle.
My brother and I,
Holding court on a park bench.
Two from one womb,
Immersed by our own private, interlocking, part.
The family from which we came,
And the families before us,
That keeps us a part,
Off springing our own branches.
It seems a miracle
And yet so common,
This touch of the centuries.
How many other brothers and sisters,
Together have trudged these cobbles,
Wondering if they have the where with all,
To sustain, their remaining years,
Without instruments of torture,
Or World War Two?
Neither pilot, nor inquisitor,
Knew of 'crack' 'd ozone layers.
All the battles each generation faces.
It's only ourselves we punish with oppression,
Not just the oppressed, but so too, the oppressor.
Cultures divide, civilizations decay,
But my brother and I, bonded in blood,
See colour beyond set definition.
Look at all the brothers and sisters
In the world, who stood their ground,
Countless times in countless years,
That we, two, at this millenniums end,
Can be united,
Awaiting aeroplanes for separate destinations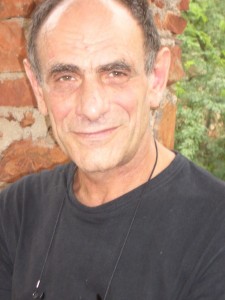 Robin Marchesi, born in 1951, began writing in his teens, much to the consternation of his mother, the sister of Eric Hobsbawm, the historian.
In 1992 Cosmic Books published his first book entitled  "A B C Quest".
In 1996 March Hare Press published "Kyoto Garden" and in 1999 "My Heart is As…"
ClockTowerBooks published his Poetic Novella, "A Small Journal of Heroin Addiction", digitally, in 2000.
Charta Books published his latest work entitled "Poet of the Building Site", about his time working with Barry Flanagan the Sculptor of Hares, in association with the Irish Museum of Modern Art.
He is presently working on an upcoming novel entitled "A Story Made of Stone."


 http://www.amazon.com/A-Small-Journal-Heroin-Addiction/product-reviews/0743300521

http://www.illywords.com/2011/09/down-the-rabbit-hole-a-glimpse-into-the-wonderland-of-barry-flanagan/