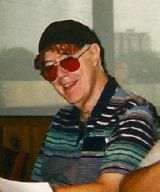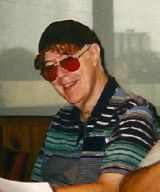 I toss in strangely troubled dreams
of rolling hills and woodland streams —
of soft, pale skin, so smooth and fair,
and moonlight glancing off her hair.
What can I say? What can I do?
Sad to say, she's just not you.
True love calls …"Come, please be mine …
we'll drink to good Saint Valentine."
and if, perchance, you choose to stay,
we'll leave her there and go away,
to roam the world, to wander far ..
beneath fair Venus, morning's star.
For fate could never put asunder
bonds of love, entwined in wonder…
though our souls should dare to brave
a bright new land beyond the grave.
Why waste one day, one minute more?
Let's bite the apple to the core,
and while the years and seasons fly,
our love will grow … and never die.
***
Jim Dunlap's poetry has been published extensively in print and online in the United States, England, France, India, Australia, Switzerland and New Zealand. His work has appeared in over 90 publications, including Potpourri, Candelabrum, Mobius, Poems Niedernasse, and the Paris/Atlantic. He was the co-editor of Sonnetto Poesia and is currently a Content Admin for Poetry Life & Times. www.facebook.com/PoetryLifeTimes He is also the chief proofreader for the On Viewless Wings Anthologies, published out of Queensland, Australia. In the past, he was a resident poet on Poetry Life & Times and the newsletter editor for seven years with the Des Moines Area Writers' Network.
You may find him here:
http://www.thehypertexts.com/Jim%20Dunlap%20Poet%20Poetry%20Picture%20Bio.htm
Here: http://www.whoislog.info/profile/jim-dunlap-poet.html
Homepage: http://mindfulofpoetry.homestead.com/index.html
Here: http://www.pw.org/content/jim_dunlap_1
Here: http://www.artvilla.com/plt/currentoct06.html
Here: http://allpoetry.com/contest/2602767-Poems-for-Jim-Dunlap–
Here: http://classicalpoets.org/fairy-dust-anarchy-and-other-poetry-by-jim-dunlap/
Here: http://classicalpoets.org/fairy-dust-anarchy-and-other-poetry-by-jim-dunlap/
Here: http://www.smashwords.com/books/view/109492
Here: http://allpoetry.com/column/9188321-Book-Review-The-Spirit-of-Christmas-in-Poetry-by-Jim-Dunlap-by-WandaLeaBrayton
***
editor@artvilla.com
robin@artvilla.com
www.facebook.com/PoetryLifeTimes
www.facebook.com/Artvilla.com