From now on if anyone asks I'll just say No,
Fuck that I ain't going to the pub no more. If
You want to get drunk with me call me, say
Hi and beg and maybe I'll invite you around.
Only on the proviso that you'll bring the drink
And not moan when I drink most of it down
Before I throw you out.

This change of heart has come from my last
Few visits to that place down the road, the
Place that has inflicted so much pain of late,
The place that has felt like home more than
Any other place in an awful long time but
Which now I can't handle without that desire
To just drown myself in an ocean of booze,
Killing myself slowly.

It's all a case of timing as the nights are now
Ruled by work and full-time hours are difficult
When there's a lot of writing and drinking to
Get done. The novel remains stuck in progress
But the poetry keeps on coming in those rare
Times when there is any and the drinking is now
More deranged as it happens so very rarely
Causing all my damn accidents.

I finally collapsed at work earlier today, pure
And utter total exhaustion as the pains make it
Difficult to sleep and now Monday night
After the Wednesday before I come home at five
Rolled one, smoked it and dropped some legal
Medication. It took me off to my warm
Beautiful cocoon of bed and, with no work now
Until Wednesday, hopefully at last my healing
Process has began.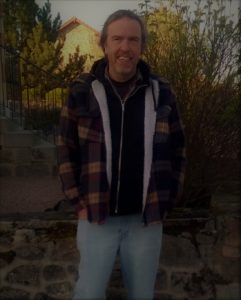 BIOGRAPHY


Bradford Middleton was born in south-east London during the summer of 1971 and won his first poetry prize at the age of nine. He then gave up writing poems for nearly twenty-five years and it wasn't until he landed in Brighton, knowing no one and having no money, that he began again. Ten years later and he's been lucky enough to have had a few chapbooks published including a new one from Analog Submission Press entitled 'Flying through this Life like a Bottle Battling Gravity', his debut from Crisis Chronicles Press (Ohio, USA) and his second effort for Holy & Intoxicated Press (Hastings, UK). He has read around the UK at various bars, venues and festivals and is always keen to get out and read to new crowds. His poetry has also been or will be published shortly in the Chiron Review, Zygote in my Coffee, Section 8, Razur Cuts, Paper & Ink, Grandma Moses 'Poet to Notice', Empty Mirror, Midnight Lane Gallery, Bareback Lit and is a Contributing Poet over at the wonderful Mad Swirl. If you like what you've read go send a friend request on facebook to bradfordmiddleton1.






Robin Ouzman Hislop is Editor of Poetry Life and Times at Artvilla.com ; his publications include

All the Babble of the Souk , Cartoon Molecules, Next Arrivals and Moon Selected Audio Textual Poems, collected poems, as well as translation of Guadalupe Grande´s La llave de niebla, as Key of Mist and the recently published Tesserae , a translation of Carmen Crespo´s Teselas.

You may visit Aquillrelle.com/Author Robin Ouzman Hislop about author. See Robin performing his work Performance (University of Leeds)