Diburnium
Janet Kuypers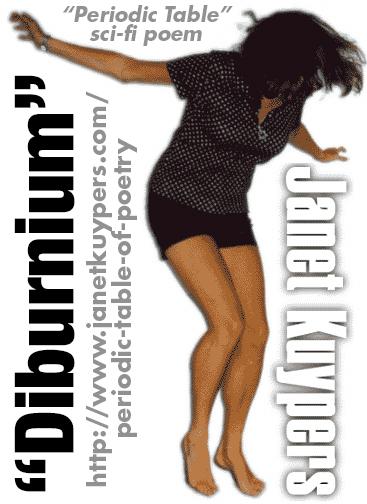 (bonus poem from the "Periodic Table of Poetry" series, #122, Db)
7/27/14
Spending another Saturday night alone,
I watched an old episode of Star Trek.
In this episode, Captain Kirk, McCoy and Sulu
were beamed down to a planet
with no magnetic field.
After the Enterprise
disappeared from their sensors,
Kirk hears Sulu say, "The basic substance
of this planet is an alloy of Diburnium-osmium."
And my brain stopped
when I heard this elemental scrap.
I wracked my brain, 'wait a minute,
I know osmium, it's the densest metal
in the Periodic Table. But Diburnium?'
I know Star Trek mentions many elements
and isotopes when they talk science,
hydrogen, it's isotope deuterium,
transparent aluminum, even dilithium
(which scientists are trying to use now
to boost speed for long distance space travel)…
So I had to research this elusive Diburnium.
Now, the Memory Alpha at Star Trek Wiki
confirmed that an abandoned Kalandan outpost
was built on an artificial planet
composed of a Diburnium-osmium alloy. And
according to the Starfleet Medical Reference Manual,
the element Diburnium had the symbol Db,
atomic weight 319, and atomic number 122.
Okay, this poet's paying far too much attention
to the Periodic Table, but I know
that right now 118 is as high as the Table goes,
but like a Periodic Table addict
I still had to look into science fiction
that piqued my curiosity.
The Star Trek Freedom Wiki explained
that Diburnium is a metallic element
with phaser-resistant qualities.
Okay fine, maybe I'll worry
about these undiscovered elements
only once they're discovered,
because without actual phasers
to worry about in the present,
I think I'll stick with the elements
we do know right now…