Livermorium
by Janet Kuypers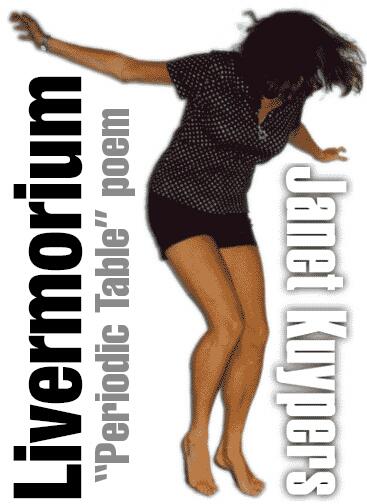 from the " Periodic Table of Poetry" series (#116, Lv; Ununhexium, eka-polonium)
For so many years,
you've gone by another name,
and then you seem surprised
when people don't know who you are.
You've wanted to be known,
and I've known you for years,
but I've noticed that as time passes,
as you grow,
you move farther
and farther
away.
You've tried for so long,
and over the years,
in our efforts to synthesize
we've had some successful reactions,
some failures to react —
and I know that some attempts
have not even been made,
but at times these attempts at fusion with you
seem far too hot for me to handle.
And really,
I assume
they're too hot
for you too.
Maybe your half life is just so short
that I never know what to do with you.
And I'll never know what you'll do next.
In our past four creations,
this quantum tunneling
has been something
I don't think I can take any longer.
And I'm sorry, but
you're insufficiently stable,
and you've never let me confirm
the true weightiness of your soul.
So,
maybe you should go your way,
and I should go mine.
I know your possible chemistry,
and I know you want to share your soul
with the entire world.
I know this.
And I'm sorry,
but I've grown tired,
and know
you'll continue to grow without me.
So yes,
you should go your way,
and I should go mine.
Maybe one day,
you will truly find
what you —
and the world —
so desperately needs.