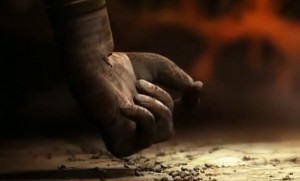 Fallen Art is the most powerfully graphic statement of war ever produced. The macabre dance produced by the machine is almost too much for the senses. I get it big time.
Via Wiki…..Fallen Art (Polish Sztuka spadania) is the name of a 6-minute, animated short film written and directed by Tomasz Bagiński. It features Romanian band Fanfare Ciocarlia's song "Asfalt Tango." The film was produced and created by Platige Image, a VFX company. In 2006 it received the British Academy of Film and Television Arts Award.
Via Imdb:
After the award-winning Cathedral (Katedra, 2002), Fallen Art (Sztuka Spadania) is Tomasz Baginski second computer-animated short film.
Like The Cathedral, Fallen Art is a breathtaking show of animation, which will undoubtedly please all fans of computer artwork, but not only. Baginski's care for detail and his characteristic style are even more evident than in his first film
Katedra – The Cathedral by Tomek Baginski
via Wiki
The film focuses on a man who visits a mystical, organic building that looks like a medieval cathedral. As he walks through the immense structure, the light from his torch falls upon the pillars, revealing human faces. The viewer later realizes that the faces are still alive, as several smile and open their eyes as the man walks past them. The building's nature is partially unveiled at sunrise as the blinding light enchants the visitor and causes organic branch-like structures to burst from his chest. These protrusions then become another set of pillars in the building.
Baginski bring a macabre style to great statement in both of these award winning short animated films.