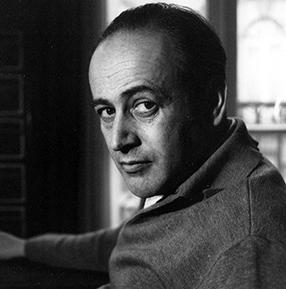 Paul Celan (/ˈsɛlæn/; 23 November 1920 – c. 20 April 1970) was a German language poet and translator. He was born as Paul Antschel to a Jewish family in Cernăuți (German: Czernowitz), in the then Kingdom of Romania, (now Chernivtsy, Ukraine), and adopted the pseudonym "Paul Celan". (Celan in Romanian is pronounced Chelàn, and was derived from the syllables of his surname). He became one of the major German-language poets of the post-World War II era.

Celan remained imprisoned in a work-camp until February 1944, when the Red Army's advance forced the Romanians to abandon the camps, whereupon he returned to Cernăuţi shortly before the Soviets returned. There, he worked briefly as a nurse in the mental hospital. Friends from this period recall Celan expressing immense guilt over his separation from his parents, whom he had tried to convince to go into hiding prior to the deportations, shortly before their death.

A version of Celan's poem Todesfuge appeared as "Tangoul Morţii" ("Death Tango") in a Romanian translation of May 1947. Additional remarks were published explaining that the dancing and musical performances evoked in the poem were images of realities of the extermination camp life.

Celan became a French citizen in 1955 and lived in Paris. Celan's sense of persecution increased after the widow of a friend, the French-German poet Yvan Goll, unjustly accused him of having plagiarised her husband's work. Celan was awarded the Bremen Literature Prize in 1958 and the Georg Büchner Prize in 1960

Celan committed suicide by drowning in the Seine river in Paris, around April 20, 1970.

The death of his parents and the experience of the Shoah (The Holocaust) are defining forces in Celan's poetry and his use of language. In his Bremen Prize speech, Celan said of language after Auschwitz that:
Only one thing remained reachable, close and secure amid all losses: language. Yes, language. In spite of everything, it remained secure against loss. But it had to go through its own lack of answers, through terrifying silence, through the thousand darknesses of murderous speech. It went through. It gave me no words for what was happening, but went through it. Went through and could resurface, 'enriched' by it all.

An Animated English Translation of Paul Celan's famous work Todesfuge

Here it is read in the original German by its author Paul Celan


A further English translation where Todesfuge (Death Fuge) is entitled Black Milk

*Editors note: The actual Reading of Paul Celan's works in original text German together with their English translations starts appx 28 minutes after a lengthy introduction

editor@artvilla.com
robin@artvilla.com
www.facebook.com/PoetryLifeTimes
www.facebook.com/Artvilla.com