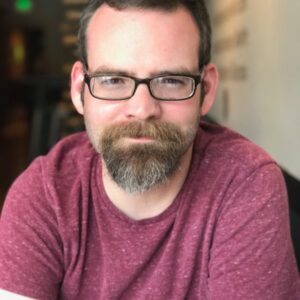 JD DeHart – Reading and Literature Resources
A Few Words about Cartoon Molecules by Robin Ouzman Hislop
Review by JD DeHart
A central question I had in reading this book was, where will the words appear next? Not only does the author use a variety of poetic techniques, demonstrating that he is an experienced poet who knows his stuff, but the words themselves appear where he wants them.
Robin Ouzman Hislop displays a sense of agency with his words, sometimes spreading them out, sometimes writing them in a prose-like way. "one more for the road" is a prime example of this world and word play, but it far from the only one.
Moreover, this poet shows the reader that he knows literature and the world. These poems are brimming with references (not to mention Hislop's creativity). The writing is honest and rings true, while being rhythmic and poetic at the same time.
I have been somewhat with Hislop because of his editing over the past years, and I am most grateful that he gave me the chance to read his work.
Visit this link to purchase the book at Amazon Amazon.com Cartoon Molecules Robin Ouzman Hislop for more info on the author see Aquillrelle.com – Authors Page – Robin Ouzman Hislop