COLOUR 2005
The uniqueness of perception
For which
As a young man
I so proudly stood
Has bred unique experience.
Now
Older
It has created
A huge
A
Lone
Ness.
Look at great Artists,
All of them,
Took their tone
In this lineage,
Of unique, aloneness.
Too much color, for another,
To bear.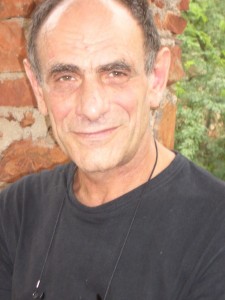 Robin Marchesi, born in 1951, began writing in his teens, much to the consternation of his mother, the sister of Eric Hobsbawm, the historian.
In 1992 Cosmic Books published his first book entitled "A B C Quest".
In 1996 March Hare Press published "Kyoto Garden" and in 1999 "My Heart is As…"
ClockTowerBooks published his Poetic Novella, "A Small Journal of Heroin Addiction", digitally, in 2000.
Charta Books published his latest work entitled "Poet of the Building Site", about his time working with Barry Flanagan the Sculptor of Hares, in association with the Irish Museum of Modern Art.
He is presently working on an upcoming novel entitled "A Story Made of Stone."

http://www.amazon.com/A-Small-Journal-Heroin-Addiction/product-reviews/0743300521

http://www.illywords.com/2011/09/down-the-rabbit-hole-a-glimpse-into-the-wonderland-of-barry-flanagan/


www.facebook.com/PoetryLifeTimes
www.facebook.com/Artvilla.com
robin@artvilla.com
editor@artvilla.com


goodreads.com/author/show/Robin Ouzman Hislop
http://www.aquillrelle.com/authorrobin.htm
http://www.amazon.com. All the Babble of the Souk. Robin Ouzman Hislop
www.lulu.com. All the Babble of the Souk. Robin Ouzman Hislop
https://www.amazon.com/author/robinouzmanhislop