Ununtrium
Janet Kuypers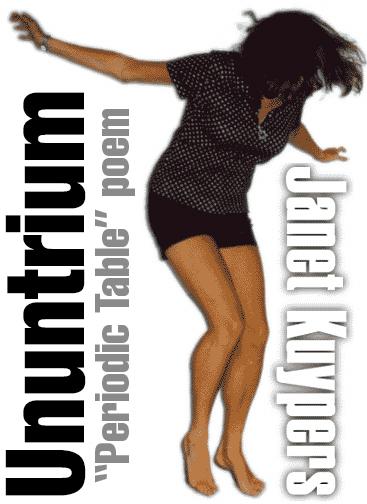 from the "Periodic Table of Poetry" series (#113, Uut)
elements derived from the poem"Tall Man"
10/23/13
I can never hold you.
But when I step
within those walls
where I first found you,
I can then feel your presence
across the room.
A movement, a stir.
I feel it.
I can sense you
as the seconds slip by,
but after only
twenty moments,
I snap out of it.
I know you're gone.
I compare you
to your friends,
and your heaviness
weighs me down.
You, with your long shadow
stretched across those walls,
you'll only disappear again.
An occasional glance —
I'll take whatever I can take.
Glimpses of your strength
is all I can capture
before you seem to
dart away
at what seems
to be
the speed of light.
You're a stranger.
You stay tightly wound in your world.
But I want crack
your dense shell.
I want to know you.
I've sensed you.
And for some reason,
I feel I know you all too well.