Sodium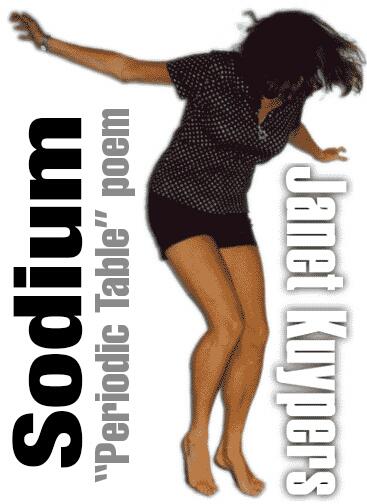 from the "Periodic Table of Poetry" series
8/31/12
It's funny that something
so common on this Earth,
the 6th most abundant element,
something so common
that it's usually found
mixed with the ocean water…
It's funny that something
so common on this Earth
was actually used as currency,
given to ancient Roman soldiers
in addition to their wages.
The English word for it
was even derived from "salary",
derived from "salarium"
for the wafers for payment.
In Medieval times, "sodanum"
was used to relieve headaches.
And the element name
is probably derived
from the Arabic "suda"
for headache…
It is in the soaps we make,
and we add it to the food
we eat. It has been used
in making and bleaching paper,
it's in water softeners,
it's used in compounds
for industrial cleaners,
or even as a tissue dissolving agent.
It's funny, how we have it
in kosher, iodized and rock forms
in our kitchen.
So I guess it's fitting
that this silver-white element
(which does not occur in nature
but is derived from it's compounds),
it's amazing that
this abundant element
has been used in so many ways,
from creating soaps
to industrial cleaners
to even dissolving tissue…
To even flavoring our food.
In us animals, Sodium
is even needed for nerve impulses
generated in our cell membranes.
So yeah, it makes sense
that if Sodium's so needed,
and Sodium's so abundant,
we'd use it in as many compounds
as we possibly can
to make our lives better.