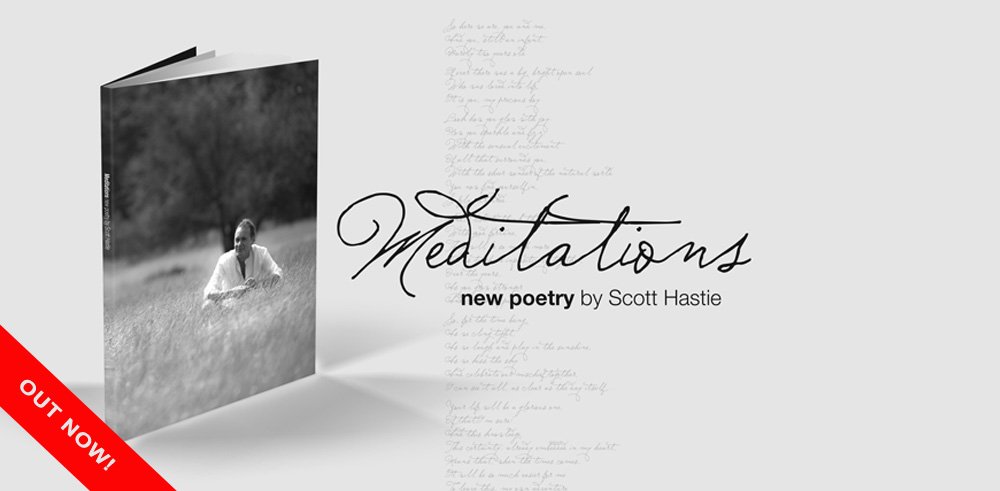 Scott Hastie is a successful British born poet and writer, who has been has been commercially published in the UK for over twenty years now. He currently has eight titles in print, including a novel and three collections of poetry. In recent years, the spiritual tone in his maturing poetic voice is starting to draw increasing acclaim and attention from an increasing worldwide audience, especially in the U.S. India & the Middle East. www.scotthastie.com
Official twitter account: @scotthastiepoet
Public Facebook page: www.facebook.com/scotthastiespiritpoet
Wikipedia: http://en.wikipedia.org/wiki/Scott_Hastie
Scott Hastie's brand new collection of poetry Meditations has only just been published (Sept 2013) and is available now worldwide in both print and e formats. For more details see this link: www.scotthastie.com/?page_id=1803 Given his gathering, cross cultural popularity around the world, preparations are already well under way for a more definitive and comprehensive hardback collection of all his latest work, entitled Angel Voices and currently scheduled to be published by CENTURIA in the Autumn of 2014.
Sample Poems from Mediations.
(i.)
Age gathers, colludes.
Cadences fade fitfully,
Seemingly before their time.
But there are echoes still,
Shapes we inherit,
We inhabit, we bequeath.
A life however bravely spent,
Will always be jagged, incomplete,
Never far away
From being enveloped in darkness.
Some may say,
Especially those who've known joy in life,
That this is not right.
I tell you clearly they are wrong.
So, just as a dancer
Might spin for you an exact pirouette
And release themselves in the perfect burst,
A lingering silhouette of energy,
Be content to love, to dazzle in the light,
If only for moments…
And then be gone,
With gladness in your heart,
Before the creeping shadows
Claim too much your sadness at leaving.
© Scott Hastie 2012. All rights reserved.
(ii.)
And still the darkness waits for me,
As I know it will…
And ever more avariciously still,
As it senses my journey comes closer to fruition.
I know in my heart it is a given
That I can never entirely banish
This spectre of the night,
It will always be beside me, as it needs to be.
Just as surely as the sunniest of summer's mornings
Or the broadest of smiles on a lover's face
Can make your heart soar,
As a counterpoint in the navigation
Of all that's possible in life.
All that one would ever want to reach out for,
Whether driven by angels or demons…
So I choose to condemn it
To wait on the sidelines forever.
And as an irrelevance, a meaningless shadow,
A token silhouette to all my blessings.
Like the soft dusting of fallen snow on hollow bones,
On the already broken, spilt corpse
Of souls long since departed.
Strengthened by the certainty
That the light I cherish and hold dear within
Will instead keep me safe and warm,
Till my own time comes….
© Scott Hastie 2012. All rights reserved.
(iii.)
However beautiful,
No pebble on the beach.
You were my touchstone.
And yes,
I have now smelt the perfume of the Gods.
If only for precious moments
Opened the gilded door
And walked through.
Set foot on hallowed ground,
Taken refuge where my soul longed to be,
In the sunlit meadow of my dreams.
Bathed in love and light,
Healed and nourished,
Elevated by experiences of wonder.
It was the miracle of how the needs,
The spiritual hunger
Of two separate physical beings,
Two fractured souls,
Could fit together so perfectly,
Like long lost pieces of some ancient code
That, once re-united, yielded up energies,
Ecstasies and insights beyond our imagining.
That was the key.
And far beyond any love affair
With its own predictable half-life
Of intensity, its cycle of emotion.
Instead a permanent path
That, once illuminated,
Goes ever onward – a way home…
© Scott Hastie 2012. All rights reserved.
Scott Hastie Poet:It has also been my very recent privilege to discover several experimental poetic bloggers, whose writing and sites have touched me in some way. Of these I would draw your reader's particular attention to:

Lina Ru – http://linaru.com
Sylvie Ashford – http://riverscribbles.wordpress.com
Robyn Lee – http://www.throughthehealinglens.com
Natasha Head – http://www.tashtoo.com/
Melissa Fry Beasley – http://melissafrybeasley.wordpress.com/
Gillian Prew – http://gillianprew.com/
Pamela Sayers – http://wordsandthoughtspjs.wordpress.com/
Claudia Schoenfield – http://kelvinsm.blogspot.co.uk/
Kelvin SM – http://kelvinsm.blogspot.co.uk/
Jacqueline Dick – 1emeraldcity.wordpress.com
I also think Michelle Vinci, an educator based in Vancouver, is doing new and great work with her Global Twitter Community Poetry Project.

***
robin@artvilla.com
www.artvilla.com/plt
www.facebook.com/PoetryLifeTimes
www.facebook.com/Artvilla.com