Ununpentium
Janet Kuypers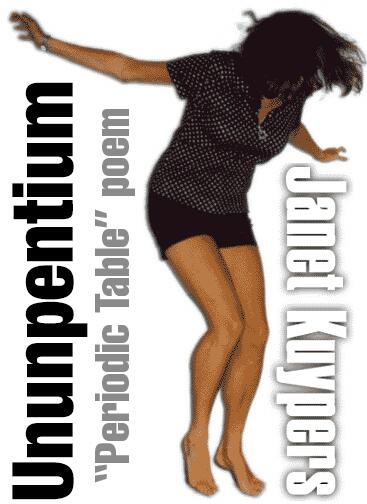 from the " Periodic Table of Poetry" series (#115, Uup)*
A month before you died,
on the day that she was born,
that was very possibly the last day
I talked to you.
I know you loved me,
but in the grand scheme of things,
you had to know
this relationship couldn't last.
When you first asked me out,
My answer was quick:
I think it was
a hundred milliseconds
before I said no.
You had to know
that with a half-life so short,
we didn't stand a chance.
And on that day, February second,
I sat on the other side of the country
at a bar with a man
who introduced me to philosophy.
It was good to see him,
to remind myself
of how I wanted to live.
Remembering how chemical reactions
were supposed to last,
I then realized
the ununtended consequences
of this pent up friction
between us.
Try to smash the right
ions from us together,
see what happens.
See if anything survives
long enough to even measure.
You know you had an uphill battle with me.
#
A hundred and fifteen days
after February 2nd,
three months after you died,
that was when I almost died too.
Because even though you bombarded me
with your high excitation energy,
this hot fusion would never work.
And look at what was left of me.
I didn't want you to die.
I didn't want you to be destroyed.
Did you seal your fate
by trying to bond with a part of me,
or should I have trusted my first instincts
so that your destruction would hurt me less.
I wish I could have told you
that this systematic elemental
bombardment of us,
this radioactive reaction,
was only temporary,
this doesn't occur in nature,
we had to work so hard
to merely try to make something of us.
And as much as I hate to admit it,
I wonder
if this
was never meant to be.
* A Russian and American scientist team bombarded americium-243 with calcium-48 ions to produce ununpentium, historically known as eka-bismuth. Ununpentium is a temporary IUPAC systematic element name derived from the digits 115, where "un" is from the Latin "unum-" for one, and "Pent-" is from the Greek word for 5. Scientists usually just say element 115. Discovered February 2nd, 2004, it has a half life of 200 milliseconds, with decay at 100 milliseconds. ("Hot" fusion reactions deal with the synthesis of nuclei of ununpentium at high excitation energy.)