Right Like It Is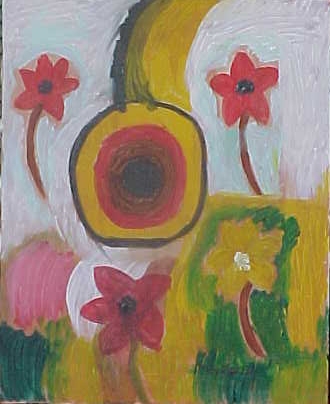 "Right Like It Is"
by Mary Janet Jackson
Original
Acrylic on canvas
16" x 20"
From the Collection of Chris Carmichael
Mary Janet Jackson's photo's of her cats have been seen by thousands who pass through Yahoo and others asking for pics of cats. She is the spark of the Famous Internet Cat Gallery.
Her photos and art inspire two cd covers:
"Her simple and so humble artistic statement seem so perfectly to describe our philosophy in our recent cd
"Right Like It Is".......that is why we chose this painting for the cover........JC "
"Her picture of a cat exactly represented what our cd "The Sun's Gonna Explode" represented. .........Jake and Haystack
Of late she has been encouraged to paint. Janet's simple approach to life involves her animals, green thumb and family. She has placed a value on her art of "$25. Artvilla's totally unfounded and certainly biased appraisal is higher. Picasso would have liked her and so do we. Her bio in her own words:
" I'm Mary Janet Jackson. I was born on July 22,1950. I went to Norman Smith Elementary first. I graduated from Clarksville High in 1969. I went to Austin Peay State University for three years where I majored in Sociology and Liberal Arts. In 1981 I married David M. Jackson. He has always been a professional engineer and has worked for twenty years as an air conditioner engineer. I am a homemaker."
Such simplicity! What is art? Beauty really is truth.
" Right Like It Is " © Mary Janet Jackson
---
---
Thank you for your visit to Right Like It Is. Take the Artvilla tour Bus to surfing for fun:
---
---
Search Artvilla
Link to this page

Highlight the text and copy