How to Make a Lithograph
---
---
How to make a lithophane/lithograph using Cura
---
---
Lithography is based upon the fact that oil and water do not mix. It was invented in 1796 by German author and actor Alois Senefelder as a cheap method of publishing theatrical works. Lithography is done with polished stones or metal.
Lithography originally used an image drawn with oil, fat, or wax onto the surface of a smooth, level lithographic limestone plate. The stone was treated with a mixture of acid and gum arabic, etching the portions of the stone which were not protected by the grease-based image. When the stone was subsequently moistened, these etched areas retained water; an oil-based ink could then be applied and would be repelled by the water, sticking only to the original drawing. The ink would finally be transferred to a blank paper sheet, producing a printed page. This traditional technique is still used in some fine art printmaking applications..........
Murfreesboronet
For further info try
Wiki
The intent of a lithograph is to let the artist speak through the stone.
The artist-as-printer has an intimate relationship with the tools of lithography—the inks, the stones or plates, the sticks and brushes. That relationship is no less subjective than that of a painter to his canvas, paints and brushes. Lithography is a beautiful artistic medium in itself, and should not be judged on its ability to imitate another medium.....The Collector's guide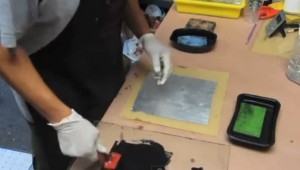 ---
---
Related Links
how to make a lithograph from a photo......
Ella & Pitr: How To Make A Lithograph | People of Print
how to make a lithograph from a painting......
Ella & Pitr: How To Make A Lithograph | People of Print
how to make a lithograph plate......
Aluminum Plate Lithography
how to make a lithograph for kids......
Lithograph Fine Art Printing : What Is a Lithograph? - YouTube
lithography......
7 nm lithography process - WikiChip
what is an original lithograph......
Prints & multiples: everything you need to know | Christie's
lithography process steps......
A step-by-step guide to stone lithography - Leicester Print Workshop
how to make a lithograph in photoshop......
How to Get a Lithographic Effect in Photoshop | Chron.com

Search Artvilla
---
Link to this page

Highlight the text and copy