NEW RELEASE
---
The Most Sinister Plot Known To Humanity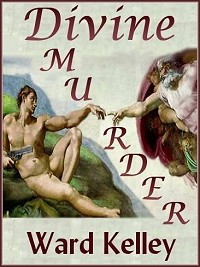 Word Wrangler Publishing is proud to present Divine Murder by Ward Kelley. This paperback novel is the latest release from a duly celebrated and widely-published modern American writer. Kelley takes readers on a journey like none other in print: a small group of zealots discovers a way to physically kill God.
A preternatural foray into the very depths of human nature and the soul, Divine Murder elicits disbelief suspended by the vivid resonance experienced by the reader. You'll meet up with demonic devils and perfect angels. Ardent infidelity and steadfast loyalty will bring philosophical epiphanies, and there's ample underlying treachery with an appropriate dose of graphic violence. After all, the task at hand is the murder of God, a deed so diabolical it floods the mind with metaphysical questions.
As the protagonists, Warren and Zoe, fight to separate reality from illusion and fact from fantasy, the fate of humanity lies in their hands. Descend to the subterranean regions of the earth with these two cellmates of an earthly hell and find out what their children's role in the dastardly deed involves as you sail through the ins and outs and ups and downs of a Plan artfully crafted to keep you turning pages.

















Review of Divine Murder
by Janet I. Buck Ph.D., author of Calamity's Quilt,
Reefs We Live, and Desideratum's Doggie Dish
---
Ward Kelley's Divine Murder is an odyssey on a par with Tolkien's Lord of the Rings. His style of examining circumstance and perpetuity and the graves we dig in terms of soul isa cross between C.S. Lewis and Dantë, an engaging mix of speculation and inner truth. Kelley's poetic pen has an eroticism reminiscent of Nabokov, where scenery is more than scenery. It is a playground for temptation and a test of moral cues.
Kelley opens the novel near the sea, travels through a veritable galaxy of emotion, and the reader falls in love with the complexity of both hisprotagonists and his villains. In Divine Murder, you will meet both the devil and the god, the beams of light and the complex shades of the darkness, but they are at times indistinguishable, and rightly so. It's the reader's job to intuit and draw the line, which adds nothing but fascination to the experience of reading this book. Science fiction has never seen such a startling command of both the earthly and the imaginative.
---

Contact Information:
332 Tobin Creek Road
Livingston, MT 59047
Attn: Barbara Quanbeck
phone: 1-866-896-2897
email: wrangler@wordwrangler.com

or:
Ward Kelley
1767 E US 40
Greencastle, IN 46135
phone: 765-653-5889
email: Ward708@aol.com
http://www.wardkelley.com
Kelley Bio: Ward Kelley has seen more than 1000 of his poems appear in journals world wide since he began publishing in 1996. A Pushcart Prize nominee, Kelley's publication credits include such journals as: ACM Another Chicago Magazine, Rattle, Zuzu's Petals, Ginger Hill, Sunstone, Spillway, Pif, 2River View, Melic Review, Thunder Sandwich, The Animist, Offcourse, Potpourri and Skylark. He has been honored as featured poet for Seeker Magazine, Physik Garden, Poetry Life & Times, and Pyrowords. Recently he was the recipient of the Nassau Review PoetryAward for 2001.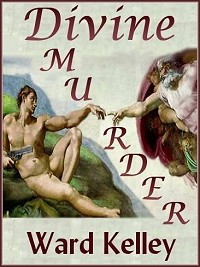 DIVINE MURDER
ISBN 1-58630-084-9;
$18.95; 5by 8; 383 pages; softcover