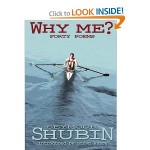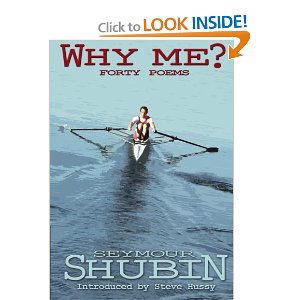 In 1953, Seymour Shubin published his first novel, Anyone's My Name. It was a New York Times bestseller, published in numerous international editions and taught in college courses on both literature and criminology. Subsequently, Shubin wrote more than a dozen other novels.
The effect on me of Anyone's my Name and other Shubin novels was more like Poe's "Tell Tale Heart". The struggle inside the mind of the killer predominates Anyone's my Name and has stuck in my mind like the beating of that heart. Shubin stays with you and you know you haven't read just a crime novel. He portrays the inner thoughts of a character and makes them your thoughts. That can be disturbing and enlightening. That's literature. Anyone's My Name and The Captain don't leave me. They don't stay where you put them, they don't stay in their genre.
Rod Lott says, "Few writers can make you feel that kind of pain."
Why Me is a book of poems, Seymour Shubin's first glimpse into his life which began in 1921. These poems give us a glimpse of growing up in the Great Depression. They are free of the feeling of wading through it poesy. They are personal, autobiographic, and downright readable.
The storyteller manages to tell a story in each poem, a tiny little story that is a glimpse of his life, little snapshots like tiny books in a nutshell. "Cod Liver Oil" is such a poem. His parents gave him a nickel for drinking cod liver oil. He put his nickels in a "bank".
But then one day my father
came home and announced
that the bank was one of many banks
that had "failed"
in the Depression
we were living in.
And my money was gone,
along with a lot of other people's money.
I never drank cod liver oil
after that.
In a poem called "The Reunion", Shubin ends with:
And his sister, she'd had such pain,
is she smiling again?
But do they even know
that I am
here?
I leave a stone in case they do.
As he does in his novels, Shubin takes you into his thoughts and you get a glimpse of the alter ego in the books but, once again, it's the storytelling that makes these poems stand out. The dude can write.
A poem called "Half Ball" sent me scurrying to Google and Wiki. Stickball is played with a ball up and down the street. Half ball can be played from curb to curb and has imaginary runners. The poem has images of this game interlaced with the death of one of the "kids". Glimpses, memories which make you want another.
Says Steve Hussy in his introduction, "Why Me communicates complex ideas with simplicity. As a result, it's yet another form of writing that Seymour Shubin has mastered."
Why Me is a book of poems published by Murder Slim Press. By their own admission, "This is the first –and probably the last– poetry collection we'll publish at Murder Slim Press." Actually I adore their name and think it's the perfect name for modern poetry but I also admire their business sense. They published it because it was so damn good. Now ain't that a hoot!
It's simplicity, honesty, and straightforward storytelling that count in a poem. The poems in Why Me are autobiographical, personal, and give us a glimpse inside Seymour Shubin. I read it in one sitting and now seem to pick it up and open it at a random place, "Oh I remember that one."
Bravo Mr Shubin Bravo. You captured me again. More!
david michael jackson