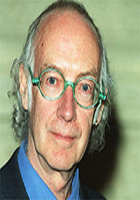 McGough was born in Litherland, Lancashire, to the north of Liverpool, the city with which he is firmly associated, and was educated at the University of Hull at a time when Philip Larkin was the librarian there. Returning to Merseyside in the early 1960s, he worked as a teacher and, with John Gorman, organised arts events. After meeting Mike McGear the trio formed The Scaffold, working the Edinburgh Festival until they signed to Parlophone records in 1966. The group scored several hit records, reaching number one in the UK Singles Chart in 1968 with their version of "Lily The Pink". McGough wrote the lyrics for many of the group's songs and also recorded the musical comedy/poetry album McGough and McGear.

McGough was also responsible for much of the humorous dialogue in The Beatles' animated film, Yellow Submarine, although he did not receive an on-screen credit. At about the same time a selection of his poems was published, along with work from Adrian Henri and Brian Patten, in a best-selling paperback volume of verse entitled The Mersey Sound, first published in 1967, revised in 1983 and again in 2007.

McGough won a Cholmondeley Award in 1998, and was awarded the CBE in June 2004. He holds an honorary MA from Nene College of Further Education;[citation needed] was awarded an honorary degree from Roehampton University in 2006; as well as an honorary doctorate from the University of Liverpool on 3 July 2006. He was Fellow of Poetry at Loughborough University (1973-5) and Honorary Professor at Thames Valley University (1993).


YouTube responded with an error: The request cannot be completed because you have exceeded your <a href="/youtube/v3/getting-started#quota">quota</a>.