Rubidium
Janet Kuypers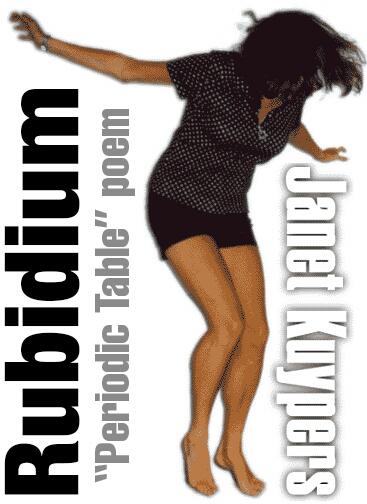 from the "Periodic Table of Poetry" series (#37, Rb)
(based on the poem "Burning Building")
10/2/13, finished 10/3/13
You tell me you want to be the hand
that pulls me from the burning building,
but you caused that fire.
They try to put it out with water,
but you turn it into hydrogen gas.
You give everything more heat,
and the fire only expands.
So every time I try to be rescued
you turn your back,
you claim you have more work to do.
So I will rescue myself this time again,
and I will wonder if I should stop trying
and allow myself to perish in the flames.
Now all I have to do is sit and wait
for another disaster to consume me.
I'll wait for you to do your work.
Sitting and waiting is exactly what I'll do.
You fascinate me with your fireworks, you think,
oh, what a pretty purple color. She'll like that.
But I was never that fond of that color,
and I hate the damage you can cause.
When things get hot, it seems you melt
just above my own body temperature.
How can I survive with you like this?
My love for you is the deepest red, but
why do you tell me one thing and do another?
You really charge me when we're together, but
why do you run away when I need you most?
I'm stepping over the wooden beams now,
and the flames are all around me. Here, look
at the blood dripping from my arms. Here,
smell my flesh burning. This is what you do.
You have been so volatile recently, that you
seem to react to everything I ever do, even
if it's in an effort to save us. So, let me burn.
Can't it be easier for me to just perish? I try and try,
and every time at the last minute, my figure
steps over the the charred remains and saves me.
If only you wouldn't create the burning.
Is only you would exist for more than destruction,
even if it was only for purple fireworks, or
conducting electricity, or cooling lasers,
giving power to batteries, or outer space energy.
But I'm afraid to be with you anymore,
because you'll even spontaneously ignite
in the air. I know our past, I know I can
absorb you into me, But I only know now
that you serve no purpose for me.
So after all this time, I only wonder if I could
ever feel safe with you, even just once.