The Title Piece is a selection from the Audio Album Bloodlines listed below, Kwame Write was one of our earliest contributors at PLT, more of his works can be found in Catagories under Kwame Write – PLT wishes him all success with his new album debut. Editor's Note

Bloodlines serves as a revo poetry with music data stream treating a nation like an organ, a continent like a body and the globe like soul. An uncut splurge of visual metaphors forged into recited poetry, 'some singing' and fast paced rhythmic rap in fusion with Ghana's Ebo Taylor and Alhaji K. Frimpong's highlife chops cooked by ProdbyYungFly and Drumnayshin(who mixed and mastered all the pieces except Woyaaya), live taps by Burkinabe genius Lasso, alternative EDM influenced tapes from Euiv's Baltimore den and afro house plugs from South African sounds king Mo Laudi by way of Paris. The themes are one and all – based on blessing of earth, water, wind and fire. The artist rants out some social commentary concerning black world modern slavery, water pollution, illegal mining and plastic waste. Also, there's some folk storytelling and groovy wordplay pieces in there.

https://kwamewrite.bandcamp.com/album/bloodlines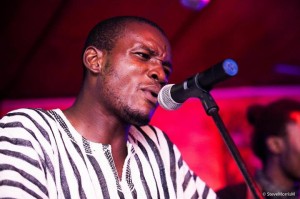 BIO:
Strategic multidisciplinary event manager, poet/spoken word artist, blogger and content creator with the passion for writing; poetry, children's literature and documentaries mostly. Kwame's word art has earned him several online publications like http://www.artvilla.com/plt/thats-why-i-write-poem-kwame-write-aidoo/, http://www.kalaharireview.com/fictionpoetry/2013/6/25/not-just-dream.html and http://thejrshow.net/2014/03/06/motion-of-destiny/, , a nomination for International Best Amateur Poet by World Poetry Organisation in 2003, an award from the Scrabble Association of Ghana and the stage name "Write". He believes that poetry is an underestimated tool for education, passing down history, entertainment and inspiration for/by his generation.
Born on the 25h of October, 1986, Charles "Kwame Write" Aidoo earned a BSc in Biochemistry and Biotechnology from Kwame Nkrumah University of Science & Technology in 2009, and currently runs Inkfluent; a poetry/writing event, record production and social media hub which produced Vocal Portraits I: https://soundcloud.com/vocalportraits; a spoken word compilation that brought together 3 continents and currently working again with spoken word artists across the globe on the soon to be released Vocal Portraits II. He also works as a co-ordinator of Ehalakasa; Ghana's mother poetry movement/platform. A fufu addict though open to try new dishes, he's learning to use a few instruments and languages.





www.facebook.com/PoetryLifeTimes

robin@artvilla.com
editor@artvilla.com

Key of Mist. Guadalupe Grande.Translated.Amparo Arróspide.Robin Ouzman Hislop

goodreads.com/author/show/Robin Ouzman Hislop
http://www.aquillrelle.com/authorrobin.htm
http://www.amazon.com. All the Babble of the Souk. Robin Ouzman Hislop
www.lulu.com. All the Babble of the Souk. Robin Ouzman Hislop
https://www.amazon.com/author/robinouzmanhislop
http://www.innerchildpress.com/robin-ouzman-hislop.All the Babble of the Souk