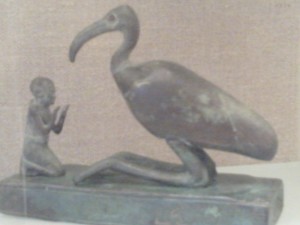 I – The Evening Dinner

An Australian ibis – sister to Thoth's sacred ibis
(now extinct in Egypt) – is nesting near the dam
at the bottom of our land. She hatched three chicks
but only two survive. It's swampy down there,
due to the summer of inundations – we imagine she
feeds her young on yabbies, frogs and large insects.

Maybe there are two birds – she seems larger in the
evenings. My son believes they change parental shifts
at dawn and dusk. I like to imagine they write in their
down-time: poems, plays, essays, novels … Their black
bills hint at great things: beyond wading the shallows,
feeding snails to their young and antiseptic preening.

II – Factoid

Ibises (scribes) are 'pests' in today's new Australia
of fast money, climate change denial and government
sanctioned human rights abuses. In eastern seaboard
cities, colonies of birds – escapees from inland drought –
clamour for pastries and fish-food in parks beside
suburban lakes. They number in the thousands.

III – The Community of Scribes

At dusk last night I tried to observe the change
of shift – I crept slowly, noiselessly to a spot behind
a large gum-tree and waited. The ibis was undisturbed
– she/he waded in the shallows concentrating, no doubt,
on some doomed creature slithering about in the rich
spring mud. The chicks, hopefully, safe in their nest.

Time stood still – we could have been in ancient
Egypt, perhaps on a minor tributary of the Nile –
poised between night and day, sunset and moon-
glow … white-black bird with amazing concentration!
Such a domestic scene: a parent sourcing the evening
meal. And then I heard it: a disturbance in the air, a

communal flapping of wings, above me, above the tree-line –
how many birds? They circled in a gigantic V, necks out-
stretched, powerful unhurried wing flaps – lumbering
organic cargo planes – and the moon as their back-
drop. Until one of them descended, smoothly – the
predicted mate? – before executing a deft water landing.

As one bird arrived the other departed – they rubbed bills
in the handover. Soon enough she (or he) was soaring
beneath the papyrus heavens – in formation with cadres
from some secret avian writers' group. Free, by night
to pursue the challenges of scribing (and interpreting)
the hieroglyphic enigmas of past, present and future.

Their young, with luck, will soon be airborne –
for a global winter approaches, and
the sons and daughters of Thoth and
Sesheta are all that stands between
humanity and brutal, self-created chaos.

Image: 'Thoth as Ibis', by the author, 2015.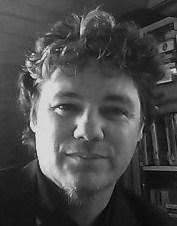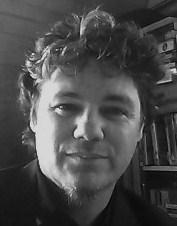 About the Author

Ian Irvine (Hobson) is an Australian-based poet/lyricist, fiction writer and non-fiction writer. His work has featured in publications as diverse as Humanitas (USA), The Antigonish Review (Canada), Tears in the Fence (UK), Linq (Australia) and Takahe (NZ), among many others. His work has also appeared in two Australian national poetry anthologies: Best Australian Poems 2005 (Black Ink Books) and Agenda: 'Australian Edition', 2005. He is the author of three books and co-editor of a number of literary journals – Scintillae 2012, The Animist ezine (7 editions, 1998-2001) and Painted Words (10 editions 2005-2014). He coordinates the Professional Writing and Editing program at Bendigo Kangan Institute (Bendigo & Melbourne, Australia) and has taught in the same program at Victoria University, St. Albans, Melbourne. He has also taught history and social theory at La Trobe University (Bendigo, Australia) and holds a PhD for his work on creative, normative and dysfunctional forms of morbid ennui. Web site: http://www.authorsden.com/ianirvine

www.facebook.com/PoetryLifeTimes
www.facebook.com/Artvilla.com
robin@artvilla.com
editor@artvilla.com