(i.)

KEYS IN A ROW

Perhaps someone
will play a melancholy
keyboard piece as I am
leaving, and, stopping
to listen, I'll have a vision
of what is to come if I
linger, if I walk up
to the player, wait,
then ask some pertinent
question with an eager
mien, the seconds gone
when I would have been
outdoors in the clear,
the moment interrupted
with a careless insufficiency,
the scattered patterns
of my life converging
into a broken string,
a clappered wheel
on which the hours
tick and dance to
their inoperable end

***

to be released from a long
slow slough, much of it
impenetrable like the circle
of a dream manifest as reality,
frightful and avoidable,
a bag in a corridor laced
with shadows and squalor,
which the mere eye of me
is afraid to undo

***

moving through
the veins, a fire-
ball with dim
obbligatos and
dark copper
bangs, like old
radiator pipes
when the steam
hammers at high
velocity into their
joints, warming
the room and
almost waking
the sleeper from
his sleep

***

here in this morning's morning
self-forgotten sullen twang
comes a star gilded and silver,
climbing still like the pine
branches tipped with needle-
frantic green, yes, caught
like a tiny chip on the great
waist of some spectre surface
emerging into the dissolving dark.


(ii.)

LANDSCAPE IN FALLEN LIGHT, WITH CHILDREN

Just an unimportant place,
radiant and ordinary,
deserving the utmost scriptory,
with golden quags
up to the knees,
the sun blotting the lough
like streaks of silver haze
settling in a quay.
No need for a raveled sky
of quizzical significance,
the wrangling heads
foundering in the streets,
questing the unending sop
of memory and imprecation
to put life into the big words,
immiserating the ivory dungeon,
as one antinomian calls it,
reduced to bah, to babbling ooze,
slightly ecstatic now and then,
what is preserved
when meaning is deflated,
page after page, of invisibility,
of pity for hope lost
in hell's sunken bolgias,
or the faces strapped
to the skullbones
of the starving young.

(iii.)

NOW THEN, THE OPEN EYE

August's close
but I already feel
the solitary cold,
a sleepless place
and zero of the night,
like an infinitive
without an end
and half reluctant
to begin. But solitude
is just a postlude
to the now where all
the wrongs set in,
a moment's atom
out of kilter,
out of being true,
where finally the heart
may intermit its beat
with careless equanimity
or grave abandonment
like a nimbus
with its watery crystals
of deep ice,
washing the sorrows
from your face,
from all the lineaments
of being you.

(iv.)

VERISIMILITUDE

After a passage from a novel by Virginia Woolf

Somewhere in the middle
I recall a brewer's cart
and the genial narrator
describing the gray horses
that had upright bristles
of straw stuck in their tails
like sprouting plumes
above the small brown daisies
peeping from their haunches' clefts.
And a woman, seeing
this slipstream brook
of burblings through her mind,
immediately brightens,
and sorrow drops away
like a feathered colander
sifting the prismatic richness
of her life, kindling with equine
pleasure an infinite hubble-bubble
of mysterious commotion
out of the pernicious flurries
of gone time, a lollop on horsetail
streams with straw-thatched coronets,
whimsical and vagulous,
like sea-green sprites,
bedraggled by happiness
and blessed with silly dreams.

(v.)

PROBLEM, SOLUTION, ETC.

Her academic pedigree
was impressive–Swarthmore,
Columbia and the Sorbonne.
But toward her hundredth year
she confronted her biggest source
of perplexity and vexation,
the state of being weary
and restless through lack of interest,
and began her day
with crossword puzzles,
then the game shows on TV.
Did she return to these
as the day continued to impair
itself by attrition?
Ramakrishna used to rebuke
card-playing oldsters—
Had they nothing better to do
on the verge of their greatest change
of outward form or appearance?
Are crosswords any better?
Should Kurtz have done puzzles
in the dark, filling words into a pattern
of numbered squares in answer
to correspondingly numbered clues
to prevent facing the abyss
before him, the memories in him?
What is a six-letter word
for a painful emotion
compounded of loathing and fear?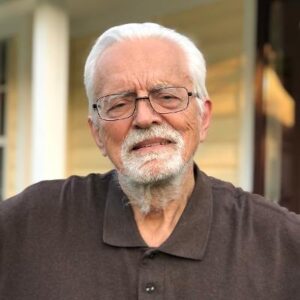 Originally from Ukraine, Askold Skalsky has published poems in over 300 online and print periodicals in the United States, Canada, England, Ireland, mainland Europe, Turkey, Australia, and India. He is the recipient of two Individual Artist Awards in Poetry from the Maryland State Arts Council, and is the founding editor of the literary magazine Hedge Apple. A first book of poems, The Ponies of Chuang Tzu, was published in 2011 by Horizon Tracts in New York City. He is currently at work on several poetry projects, including a poetry cycle based on Gertrude Stein's Tender Buttons. A book of poetry, Shapeless Works of Partial Contemplation, is due to be published by Ephemeral Arts Press in November.












Robin Ouzman Hislop is Editor of Poetry Life and Times at Artvilla.com ; You may visit
Aquillrelle.com/Author Robin Ouzman Hislop about author & https://poetrylifeandtimes.com
See Robin performing his work Performance (University of Leeds)