Standing before the long mirror she wondered
to hide this nakedness in the dark of fancy velour
or to wrap those limbs in worn out denim.

Cocktails to be served at five in the eve
in a room ornate with illustrious chandeliers
imported crystals shining of artificial suns.

Boasting pearls, diamonds and rubies she descended
princess among royalty in make believe worlds
her breast heaved with the power of intimate convictions.

A deep breath held within her chest
pleading for patience in a room stuffed with smoke
pretenses and empty vanity she dreamed of freedom.

Perhaps another would appear rejected next door
too attached to the liberty of youthful years
choosing instead to shred the tuxedos of success.

She imagines herself atop desolate islands
near and far without lace, precious metals or fame
free in a white shroud dedicated to the world.

Mingling with the semblances of peers
they brush against the pure skin of her innocence
unable to make contact as she continues to the gates.

A gaze constant upon the abandoned domains
her soul smiles for she steps into her dream
made of pains joys and true healings.

Without a look back to those well-dressed ghosts
she shed the million-dollar evening gown
to enter as upon her birth within a fitting kingdom.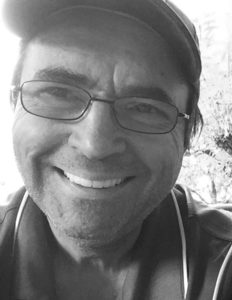 Fabrice B. Poussin is the advisor for The Chimes, the Shorter University award winning poetry and arts publication. His writing and photography have been published in print in the United States and abroad. He teaches French and English at Shorter University. Author of novels and poetry, his work has appeared in Kestrel, Symposium, The Chimes, La Pensee Universelle, Paris, and other art and literature magazines, where he has also featured here at Poetry Life and Times & Artvilla.com. His photography has been published in The Front Porch Review, the San Pedro River Review as well as other publications.



Robin Ouzman Hislop is Editor of Poetry Life and Times ; You may visit Aquillrelle.com/Author Robin Ouzman Hislop about author. See Robin performing his work Performance (University of Leeds)