Last night, this homeless needle-eyed buzzard
with time-wearied, deep-chiseled features
bleak hovered shivering relentless
round warmth of the 86th Street Station's Lotto shop.
His blue cold, street-grimed fingers
printed paper coffee cup and shivering kaiser roll
so I gifted him my old black winter coat.
This morning he nodded mid makeshift hovel,
in under twelve hours,
my coat was transfigured,
tailored to perfect fit his junk-torn world.

The downtown 4 train floats effortlessly this morning,
fast neath black plaster peelings of ceiling,
ever winding above rat poisoned third rail tracks
all warps into backdrop as downtown mountains up.
Crescendoing dark scent of hungry ghosted greed
as drab suited Wall Streeters hibernate (like bears)
till New Year's in.
Simultaneously, this life-worn Euro-trashed chic
eyes me with contemplative melancholy,
her scar marred beauty
cracked mirroring
our Maiden Lane drama
of bleak mediocrity.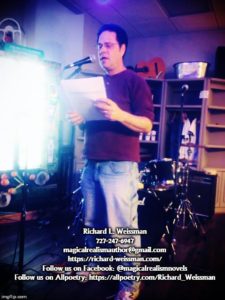 Bio:

Richard L Weissman has written fiction since 1987.
In 2000, his theatrical play, "The Healing" was selected by Abdingdon Theatre for a staged reading Off-Broadway.
Richard is the author of two Wiley Trading titles. His second book, Trade Like a Casino was selected as a Finalist for the 2012 Technical Analyst Book of the Year Award.

In 2016, Mr. Weissman completed his historical novel in the tradition of magical realism, "Generations".

In 2020 his poem, "Mountain Bird and Loquat" was selected as the grand prize winner of the Florida Loquat Literary Festival.

In addition to hosting, "In Our Craft or Sullen Art" – a biweekly poetry radio talk show, Richard participates in live spoken word events throughout the U.S.




Robin Ouzman Hislop is Editor of Poetry Life and Times at Artvilla.com ; his publications include

All the Babble of the Souk , Cartoon Molecules, Next Arrivals and Moon Selected Audio Textual Poems, collected poems, as well as translation of Guadalupe Grande´s La llave de niebla, as Key of Mist and the recently published Tesserae , a translation of Carmen Crespo´s Teselas.

You may visit Aquillrelle.com/Author Robin Ouzman Hislop about author. See Robin performing his work Performance (University of Leeds)